Photo Gallery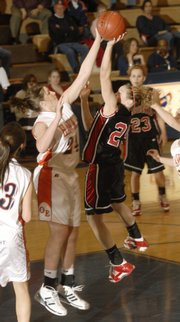 LHS girls vs. Olathe East
Olathe — Players spilled out of the locker room angry, confused and in tears. If that scene sounds familiar, it's because it already has happened this year. Problem is, nobody really is sure how to correct it right now for Lawrence High's girls basketball team.
And LHS coach Kristin Mallory didn't mince words in expressing her disappointment, either, after yet another uninspiring performance by her Lions - this one a 53-47 Sunflower League defeat at Olathe East that gave Lawrence its first losing streak of the season.
"We just came out, and we didn't play with a lick of heart," Mallory said. "Not one second of heart. They beat us to every loose ball. No matter how much I pleaded, no matter how much I begged, it didn't turn around our energy level. It's just not good enough. For a talented bunch to take the court and just expect to win, it's not going to happen."
Hard to believe this was the same team that one week ago stood at 11-1 and near the top of the Class 6A heap.
Lawrence didn't necessarily play awful basketball for all four quarters on Friday, but it sure didn't look like the same bunch that put away teams like Overland Park Aquinas and Washburn Rural early in the season.
Despite shooting 8-of-27 in the first half, LHS still clung to a 22-21 lead at halftime thanks to some solid defense.
Nothing seemed to click in the second half, however, and the Lions weren't able to step on the gas and pull away. Instead, Olathe East (8-6, 2-3) simply hung around while LHS eventually self-destructed. When Emily Birch made a lay-up with 3:15 left in the third quarter, the Hawks had a 30-29 lead, and the basketball hoop began to look as small as a thimble for the Lions.
Even Hawks coach Jeff Hulse couldn't believe his good fortunes.
"This is our best win this year in terms of beating a team that's ranked," Hulse said. "We tried to mix it up and take them out of their rhythm offensively. They are a team we can't score with. It was about holding the score down tonight."
The Hawks did that by switching between zones and man-to-man defenses as LHS got nothing to fall. An astounding 23 offensive rebounds mostly went to waste, as Lawrence continued to miss shots from point-blank range. LHS finished the game 19-of-65 (29 percent), while Olathe East made nearly as many field goals (17) on 35 fewer shots.
The Bird sisters were the lone bright spots for the Lions. Danielle finished with 18 points - 12 coming in the fourth quarter - and Taylor had 13.
Mallory said she wasn't sure what the exact problem was for LHS (11-3, 3-2), but she did say it better get turned around quickly.
"Right now, it's not even a basketball issue," she said. "It's a heart issue. Are we going to play hard? Are we going to play with some tenacity, some passion? Or are we just going to go through the motions? This is 6A high school basketball, and we can't do this. I'm extremely, extremely, extremely disappointed. I don't even know what to say at this point."
Lawrence travels to Shawnee Mission South on Monday. Tipoff is set for 7 p.m.
Copyright 2018 The Lawrence Journal-World. All rights reserved. This material may not be published, broadcast, rewritten or redistributed. We strive to uphold our values for every story published.