Photo Gallery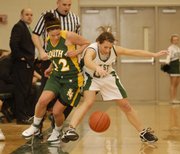 FSHS girls vs. Shawnee Mission South
Funny thing about basketball - on rare occasions, a loss feels better than a win.
That was the case Friday night for Free State High's girls team after it fell at home to Shawnee Mission South, 57-48, in double overtime.
Just two nights earlier, the Firebirds (6-8 overall, 2-3 Sunflower League) beat Savannah (Mo.), but left the gym disappointed. Coach Bryan Duncan said the team felt better about itself after the loss.
"The two key words were performance and outcome. Wednesday night we were certainly happy in the outcome, but disappointed in the performance," Duncan said, noting that just the opposite occurred against SMS. "If we perform well, you know good things are going to happen."
Sophomore Chantay Caron led FSHS with 12 points and said her coach's pleasure in their performance was encouraging.
"Duncan came in and told us that we did a good job and that we played together," Caron said. "We might be disappointed that we lost, but we played really good as a team."
A lot of those good feelings came because the Firebirds played the visiting Raiders tough for 36-plus minutes. It wasn't until the second overtime when things went awry.
SMS scored the first five points in double overtime, and FSHS couldn't recover.
"Once we got down four or five, we didn't really have the firepower to really make a big run," Duncan said.
To make matters worse, senior guard Sarah Craft, who was playing despite a right knee injury, went to the floor in agony after aggravating the injury a minute and a half into the final OT.
Starting point guard Rosie Hull, who scored eight points, said that was a turning point for the team.
"A couple of calls didn't go our way, and then Sarah went down, and that kind of hit us all emotionally," she said. "Next thing we knew, we were down and having to foul."
That didn't go so great either. The Raiders went 12-of-14 from the stripe in the final four minutes of the 40-minute marathon, led by Kristen Gillespie's perfect 8-of-8 performance.
Still, the Firebirds were again happy with their overall play.
Ashli Hill scored eight points, grabbed eight boards and blocked a would-be game-winner in the waning seconds of regulation. Ashleigh Allam impressed again off the bench with seven points and six rebounds.
Hull said she noticed desire from the team that wasn't always there before.
"I really felt like everyone wanted it, I really felt like there was that drive," she said. "There's been games before where I looked around and didn't see that."
That, more than anything, brought about the rare post-loss good feelings.
"We ended up losing," Hull said, "but if somebody saw that box score, it really doesn't reflect our game at all."
Copyright 2018 The Lawrence Journal-World. All rights reserved. This material may not be published, broadcast, rewritten or redistributed. We strive to uphold our values for every story published.