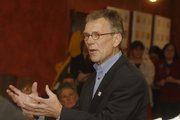 Barack Obama spent Tuesday in Kansas and on Thursday, one of his surrogates came back, visiting Lawrence, to promote the Democratic presidential candidate in towns Obama did not visit.
Former Sen. Tom Daschle, a Democrat from South Dakota, spoke at Haskell Indian Nations University on Thursday afternoon and then stopped by Milton's to rally more Obama supporters. Daschle told the crowd of about 35 people that they were the key to Obama winning the Kansas caucuses next week.
"This matters a lot because, for the first time, we believe the Democrats can be very, very competitive in a state like this," Daschle said. "We've seen exciting changes here in part because of Gov. (Kathleen) Sebelius' leadership."
Daschle said he's been pleased with the turnout and support he's seen throughout his trip, which also included a stop in Kansas City.
"The level of enthusiasm, the level of excitement, the level of participation is a very important factor for us," he said.
In addition to the caucuses, though, Daschle said he had confidence Obama could carry Kansas also in the general election. No Democrat has won Kansas since Lyndon B. Johnson in 1964.
"When you grow up in a state like Kansas or South Dakota, you believe the redness will always be here. No longer. We can win these states," Daschle said.
Katie Krider, an Obama supporter from Lawrence, turned out at Milton's to lend her support for Obama and hear what Daschle had to say.
"It's really good to see someone of his stature come and talk to us," she said of Daschle.
Another Obama supporter at Milton's, Nancy Hiebert, of Lawrence, saw Daschle for the second time Thursday. She made a trip to Kansas City for an event earlier in the day.
"(Daschle's) always been one of my favorite senators, even though he's not there any more," she said. "Him coming here spikes interest in Senator Obama. Even if people don't come, it's energizing."
This is Daschle's first trip back to Lawrence since delivering the Dole Lecture at Kansas University's Dole Institute of Politics in 2006.
"I feel very much at home here," Daschle said. "Lawrence is a very special place."
Copyright 2018 The Lawrence Journal-World. All rights reserved. This material may not be published, broadcast, rewritten or redistributed. We strive to uphold our values for every story published.