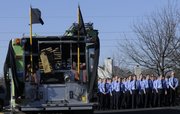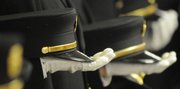 Family, friends, colleagues and community leaders gathered on Tuesday to pay a final tribute to Jim McSwain, just three years after he retired as Lawrence's longtime fire chief.
McSwain, 65, who died Thursday, was remembered during a memorial service with a mixture of tears and laughter by a crowd that nearly filled the 684-seat sanctuary at Mustard Seed Church, 700 Wakarusa Drive.
"He gave the best of himself to his community," said the Rev. Paul Taylor, chaplain for Lawrence-Douglas County Fire Medical.
Taylor called McSwain a "fierce visionary" because he knew what he wanted his department to accomplish and then worked hard to achieve it.
"He saw things that could be before other people could see them," Taylor said of McSwain, who in the 1990s engineered a merger of fire and ambulance services.
Fire Marshal Rich Barr noted that McSwain always stressed putting people first, keeping your word and being honest.
"The chief was always teaching and guiding," Barr said.
Alice Fowler, McSwain's longtime secretary, described the chief as someone who always took the high road.
"I am sometimes very opinionated," Fowler said. "Many times Chief McSwain had every right to fire me. I'm very appreciative of Chief McSwain and all the things he has done for me over the years."
McSwain's son, Creighton O'Neal, recalled humorous stories about vacations and family outings. Family traditions were important to McSwain, O'Neal said.
"All you had to do was have a conversation with him and you knew there was something special about the guy," O'Neal said.
Mark Bradford, who succeeded McSwain as chief, outlined McSwain's life and career by asking the audience members whether they remembered the first time they met McSwain, and if they remembered how they heard about his death.
"Today as we say goodbye, we will never forget the impact Chief McSwain had on his community or the fire service," Bradford said.
Dozens of firefighters from Lawrence and other jurisdictions attended the ceremony. Outside the church, fire trucks and ambulances were parked in a long line along Wakarusa Drive. A pumper truck draped in black bunting was parked outside the church entrance.
There was no funeral procession. A private inurnment was planned.
Copyright 2018 The Lawrence Journal-World. All rights reserved. This material may not be published, broadcast, rewritten or redistributed. We strive to uphold our values for every story published.