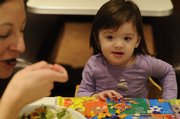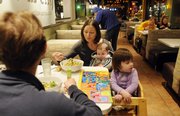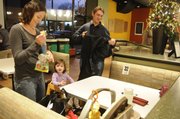 Many things change once you have children.
Gone are the days when you could leave the house on a moment's notice. Uninterrupted sleep becomes a thing of the past. And those leisurely meals spent out with your spouse where you'd actually order the slow-cooking risotto or soufflé are just about over.
But that doesn't mean it has to be homemade mac-and-cheese or happy meals every night. Going out to eat can be a pleasant outing for kids and parents alike, especially in the chilly winter months ahead, if you keep just a few things in mind.
1. Get out while you still can!
Kendra Kuhlman, parent of a 6- and 20-month-old, recommends going out to eat often before your child is 6 months old.
"They are so easy at this age, and you can just tote them right in their car seat. Six to 12 months is much more challenging," Kuhlman says.
2. Watch the clock.
Plan mealtimes so that your child is ready to eat but not so hungry he is irritable. Also take naptimes and bedtimes into consideration.
"I have a 7-month-old, and she is ready to go to bed at 6:30, so going out to eat is pretty much out of the question, unless we go closer to 5ish, even 4:30," says Monika Eichler, a mother and early-childhood Waldorf teacher.
Another benefit of early mealtime? You avoid the dinner rush.
3. Find an atmosphere that works for your family
Eichler prefers quiet restaurants without a lot of stimulation.
"I found that my child cried in noisy places because it was too much for her," says Eichler, whose Lawrence favorites include WheatFields Bakery Café, Aladdin's Café and India Palace.
Kuhlman, on the other hand, finds the stimuli at louder restaurants helps keep her little ones engaged.
"I look for a speedy restaurant with much background noise," says Kuhlman, who recommends small toys, stickers and patience to make the dining-out experience more enjoyable.
4. Look at the kids' menu
Sure, the cartoon characters and mazes are nice, but what kind of food is being offered? Michael Beard, a father and chef at Teller's, recommends looking for kids' menus that have healthy choices and not just fried food.
"Our kids' menu is basically simple dinner menu options with smaller portions like salmon, chicken or ravioli," he says.
Exposing children to a variety of foods is likely to encourage a more adventurous palate later in life, he says.
And if all else fails?
"Of course, you can still have those unpredictable moments," Kuhlman says. "Be prepared to pack up your food and have a take-out picnic at home."
Copyright 2018 The Lawrence Journal-World. All rights reserved. This material may not be published, broadcast, rewritten or redistributed. We strive to uphold our values for every story published.