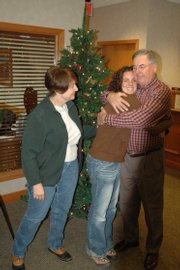 Baldwin City — For the Skaggs family, there's new meaning to the classic holiday song "I'll Be Home for Christmas."
"Yeah, that song and 'I'm Dreaming of a White Christmas,'" said Anna Skaggs, who for the past 17 months has been stationed with the Peace Corps in Benin, in western Africa. "I haven't seen (snow) for two years."
Her parents, Ron and Merrie Skaggs, were counting the days until Anna returned to Baldwin City for a three-week visit.
"Last year was the first time she hasn't been here for Christmas," Merrie said. "This was special."
After so many months gone from home, the 2002 Baldwin High School graduate didn't have to think twice about what her favorite thing has been since returning.
"I think my bed, of all the things," she said. "It felt so good. The Peace Corps gives you a mattress, but it would be very low quality over here."
Peace Corps experience
Anna has been living in Zagnanado, Benin, with a population of 13,300 people in the country of 8.4 million.
"I'm in the armpit of Africa," she said, "just west of Nigeria. Benin is a little country the size of Pennsylvania or Tennessee. The Peace Corps paired me up with a social center in my town.
"There are four sectors in the Peace Corps and mine is rural community health. But unlike some others that were paired with a medical center, I was paired with a social center."
The work she does has been hit and miss, but that's to be expected, she said.
"I am just now getting into work," she said. "When you first get there they tell you not to worry about it and to just get to know the culture."
That's a big part of the Peace Corps.
"You're American and they are African and they are getting to know you," Merrie said.
Mostly, Anna speaks French; the corps places its volunteers based on their abilities with the language. However, one of her favorite jobs has been on her own.
"I tutored my neighbors in English and I liked that," Anna said.
There are four or five neighbor children who range in age from 3 to 6 and she enjoys them. When she gets ready to exercise, the neighbors know it because that's the only time she wears shorts.
"The kids will say, 'We want to do the sport with you,'" she said. "I goof around. Balance. Hop around. I do something and they mirror me. They laugh and I laugh."
Why did she do it?
As her graduation from Cornell College in Iowa approached in 2007, Anna knew she wanted something different.
"At first, it appealed to me because I thought I wanted to live in a developing country," she said.
Her stint in Africa won't end until September. She's learned to deal with the many differences, both culturally and physically. Benin's temperatures average in the 90s year-round — give or take 10 degrees. There's a rainy season and plenty of humidity.
"Basically, it feels like a Kansas summer, only hotter — the dog days of summer," she said.
That's one of the many reasons Anna was looking forward to Christmas — cold and snow.
"I told her she's overdoing it with the wish thing," Merrie said of the recent weather.
There have been sacrifices and she misses home, but Anna hasn't regretted her decision to join the corps.
"Yes, I have enjoyed it," she said. "It's not all glamorous, that's for sure. I know I needed to work through it and I'm in a good spot. It's been a real challenge, but I'm also extremely happy that I've done this. I've grown."
Copyright 2018 The Lawrence Journal-World. All rights reserved. This material may not be published, broadcast, rewritten or redistributed. We strive to uphold our values for every story published.