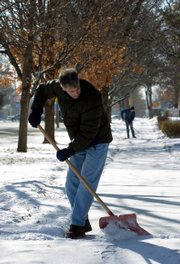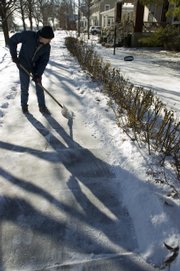 Hey neighbor, good buddy, good pal, my favorite guy on the block.
Yeah, I'm going to be out of town this week. Could you let the dog out? Great.
And oh, by the way, if it snows, could you shovel my sidewalk?
Yeah, you might want to start practicing your delivery on that one. In fact, there may be many Lawrence residents who wish they would have had that conversation before they left for their holiday travels this week.
Lawrence's new, more aggressive snow-removal policy is now in effect, which means folks who left before the Christmas Eve snowfall may be in violation by the time they return home.
How many — if any — tickets the city will hand out this first time around is unknown, but City Hall leaders are saying that simply telling the city you weren't at home won't be an acceptable excuse for not clearing the snow from your sidewalks.
"You still own the property and are responsible for taking care of it, even while you are gone," said Jonathan Douglass, assistant to the city manager.
Here's a reminder of the new snow-shoveling policy that commissioners approved earlier this month: Property owners have 48 hours following the end of a snowfall or ice event to clear their sidewalks. That's actually 24 hours longer than the old ordinance. But here's the key difference — the city no longer will give an automatic warning to folks who failed to clear their sidewalks. The old ordinance automatically gave folks an extra five days to clear their sidewalks before they were subject to a ticket. Now, if the sidewalk isn't cleared within 48 hours, you could get a ticket at any time.
And unlike the old ordinance — which resulted in tickets about as often as July days result in snow — city leaders say they will start issuing tickets. The fine is $20. The ordinance will still be enforced on a complaint basis, rather than by city employees out looking for violators.
"I think it would be a very good idea, particularly where there will be a lot of pedestrian traffic, to make arrangements ahead of time," Commissioner Sue Hack said. "I know it will be a burden for somebody, but getting those sidewalks cleared will make it safer for pedestrians."
Some landscape companies may be interested in such jobs, but some may not, said Chas Benton, who heads up the snow-shoveling efforts for Lawrence Landscape. He said his company primarily only does snow shoveling for commercial customers or residential customers who have Lawrence Landscape handle all their maintenance needs.
Benton said smaller one- or two-man yard mowing operations may be a better bet. Or, he said, there's always the option of turning to a neighborhood kid.
"There are always kids around willing to make money," Benton said. "The trick is you just have to find them."
As for prices, who knows? There's the whole supply-and-demand thing, and the city may have just done its part to spur demand.
"I would think for a normal sidewalk, maybe $15 to $20," Benton said. "I know it is not as cheap as it used to be."
The city also reminds people that there is a volunteer program that provides free snow-shoveling services to elderly and disabled people. It is run by Douglas County Senior Services and is always looking for more volunteers.
Thus far, City Hall leaders haven't heard many comments about how residents will find someone to clear their sidewalks. Most of the comments have been about the hot topic of snowplows throwing snow on an already shoveled sidewalk.
Hack said commissioners have long said property owners who have that happen won't be subject to the fine.
"It is easy to tell the difference between fallen snow and snow that got put there by a snow plow," she said.
Copyright 2018 The Lawrence Journal-World. All rights reserved. This material may not be published, broadcast, rewritten or redistributed. We strive to uphold our values for every story published.