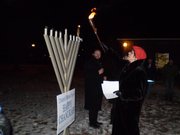 A bitterly cold, dark Sunday night was a little brighter with the help of a 6-foot-tall menorah during the celebration of the first night of Hanukkah. KU's Chabad Center for Jewish Life kicked off the holiday with latkes, gifts, balloon animals and, of course, lighting the first candle of the menorah.
"I think even though Hanukkah is a Jewish holiday, the message of Hanukkah is so universal," said Rabbi Zalman Tiechtel, executive director at the Chabad Center.
Tiechtel said that the celebration of lights gives the community a perfect opportunity to join together in a world that can sometimes seem rather dim.
"Our goal tonight is really to ignite a flame of light and kindness that says regardless of how much darkness there is in the world and how much troubles and sorrow, we can unite together," said Tiechtel.
"One little candle can dispell miles and miles of darkness."
Charles Goldberg, a KU senior from Chicago, appreciated the opportunity to celebrate with others at the South Park Recreation Center, 1141 Mass.
"When it's dark and cold, this is something important to remember," said Goldberg.
"There are many miracles that we're celebrating and it's a family time. As a college student, you don't always have your family with you. The Chabad is a really excellent organization that provides a home-type feeling for students away from home."
Lawrence Police Chief Ron Olin was on hand to ignite the flame of the lighting torch. Kansas Sen. Marci Francisco also attended. This year marked the Chabad's third annual ceremonial lighting, and it was dedicated to the memory of the victims of the recent terror attacks in Mumbai, India.
Copyright 2018 The Lawrence Journal-World. All rights reserved. This material may not be published, broadcast, rewritten or redistributed. We strive to uphold our values for every story published.