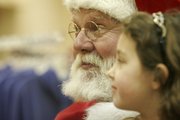 On the street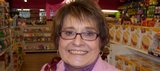 Anything that plays music for a 1-year-old and some dinosaurs.
Who's naughty and who's nice?
We caught up Saturday afternoon with Lawrence's beloved Santa Claus, also known as Larry Freeman, at Weaver's to ask him. Between visits from children, Santa answered some of the season's most pressing questions.
For those who haven't quite finished their list, Santa will be at Weaver's, 901 Mass., from 12 p.m. to 4 p.m. today and in the afternoon on Christmas Eve.
Q: So Santa, are you ready for the big day?
A: I'm ready. I am always ready.
What do you do the day before Christmas?
Organize everything. Make sure that everybody is on the right list and get the sleigh ready.
So what are kids asking for this year?
We have gone digital a little bit. They are asking for some iPods and digital cameras. But overall, they still want the same things they have always wanted. And that is remote-controlled cars and Hot Wheels and baby dolls and Barbies. So that much doesn't change.
Santa, we know times are tough this year. Has that made a difference on what kids ask for this year?
No, and it shouldn't, OK? It shouldn't make a difference. Times are tough, but times are tough for adults. It shouldn't be times are tough for kids.
What's the funniest or most unusual request you received this year?
Gee. I haven't received any real unusual ones this year. You know one year I had a little girl ask me for a bell. That is all she wanted.
So nothing too funny this year?
No, no. They know what they want. They know what they want when they get here. Sometimes they are stage struck a little bit and lose their voices and can't really say anything; they just look at me. But most of them know exactly what they want and are ready to tell me.
What do you have to do to get on the naughty list?
Well, you have to be really pretty bad. You know, we are pretty lenient with kids. We understand that they can have problems. You know, everyone has problems and everyone has bad days. So it's pretty tough to get on the naughty list.
Is it too late to move from the naughty list to the nice one?
No. You can do that on the 24th. You can do that on the last minute before I get ready to leave the North Pole.
Are there many people getting coal this year?
No. We stop giving coal because it is too expensive. But I know one person that may get a lump of coal.
Who's that?
Oh, I don't dare say. But he will know that he got it from Santa.
What does Santa want for Christmas?
Oh gee, that's tough. I just like more people to be happy. I would like to see a bunch of the people that I know personally that have lost jobs, I would like to see them back working again.
What's your favorite cookie to get underneath the Christmas tree?
Oh, there is no favorite. I love all kinds. I try to explain to people that there is no such thing as a bad cookie.
Do you have a favorite reindeer?
No, I don't. I tried doing that a couple of times, and then they got jealous, and when you've got jealousy amongst eight reindeer and Rudolph, it just doesn't work.
Copyright 2018 The Lawrence Journal-World. All rights reserved. This material may not be published, broadcast, rewritten or redistributed. We strive to uphold our values for every story published.