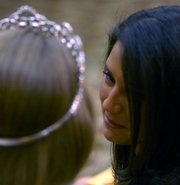 Two crowns will be at stake this weekend in Lawrence.
The Miss Kansas USA and Miss Teen Kansas USA pageants return to Lawrence for a third year. The preliminary round will be 7 p.m. Saturday at the Lied Center, and the finals will be 6:45 p.m. Sunday there.
"It's something that really prepares the girls for the future because you're always going to have interviews. You're always going to be presenting yourself in front of people so it helps them to grow," said Karen Elliott, executive coordinator for VanBros and Associates, organizer of the annual pageants.
Thirty contestants from across the state will compete in the teen competition, and 26 contestants are scheduled to compete for the 2009 Miss Kansas USA crown. The winners go on to the national Miss USA and Miss Teen USA competitions.
Throughout the weekend, they will have to impress judges in an evening gown and swimsuit competitions and an interview.
"They'll be on stage in front of hundreds of people, and they'll have to carry themselves in a manner with self confidence," Elliott said.
The Miss Kansas USA competitors include Miss De Soto USA Morgan Kopecky; Miss Douglas County USA Trisha Tyree; Miss Jayhawk USA Allie Wilmes, a Kansas University student; Miss Lansing USA Cassie Blankenship; Miss Rock Chalk USA Ashley Blanchat, a KU student; Miss South Lawrence USA Trinity Wright; and Miss Wichita USA Megan Bushell, who won Miss Kansas in 2004, the other major state pageant.
In the teen pageant, Miss Baldwin City Teen USA Olivia Catloth and Miss West Johnson County Teen USA Jennifer Ray are among the competitors.
Michelle Gillespie, of Mission Hills, won the Miss Kansas USA title last year, and Jessie Colonna, of Leawood, won the Miss Kansas Teen USA title.
Tickets are available at the Lied Center, 1600 Stewart Drive, or at the center's Web site.
Copyright 2018 The Lawrence Journal-World. All rights reserved. This material may not be published, broadcast, rewritten or redistributed. We strive to uphold our values for every story published.