Also from December 18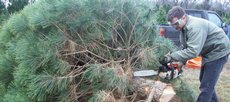 Real or fake, pine or plastic? Every year, Kathy Heeb ...
The city of Lawrence is having trouble getting rid of the recyclables it collects. Does knowing this affect your decision to put materials in city recycling bins?
Poll results
Response
Percent
No
72%
Yes
27%
Total
384
Lead stories
6:00 a.m.
Longtime chief homicide detective to retire at week's end

By Jesse Fray
December 17, 2008
10:00 a.m.
Recycling market suffering just like rest of economy

By Chad Lawhorn
December 18, 2008
6:00 p.m.
Chi Omega fountain's Frozen Assets

December 18, 2008 in print edition on 3A
A Kansas University sculpture student has frozen the beauty of a popular campus landmark. For a project in a public art class, Wichita senior Matthew Farley has constructed a display of plastic water bottles on the Chi Omega Fountain to make it appear the water is suspended in the freezing Kansas air.
All stories