Photo Gallery
Weather-caused accident on Kansas Turnpike
Photo Gallery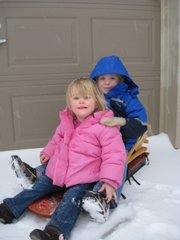 2008-09 Winter Weather Reader Photos
Well, that didn't last long.
On the same day that the Journal-World reported that no accidents had occurred on the new turnpike roundabout, the circular roadway's first incident happened on a day when more than 3 inches of snow fell.
At 9:50 a.m., Kansas Turnpike Authority troopers responded to an accident on the ramp leading into town at the West Lawrence interchange.
Shawn Lynch, a 38-year-old man from Miramar, Fla., was driving a semitrailer, which was struck from behind by a 1997 Ford van driven by Lawrence resident James Harrell III, 25. The KTA report says both vehicles were exiting when Lynch slowed for a vehicle in the roundabout and was hit by Harrell's van.
Lynch was able to drive his truck away. Harrell's vehicle was towed. He refused medical treatment at the scene, according to a KTA dispatcher.
Copyright 2018 The Lawrence Journal-World. All rights reserved. This material may not be published, broadcast, rewritten or redistributed. We strive to uphold our values for every story published.