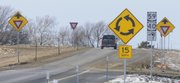 It's been a few weeks now, and officials at the Kansas Turnpike say their newest roundabout is working just fine, thank you.
Nobody's wrecked yet, anyway.
"I haven't heard anything about anybody going the wrong way," said Rex Fleming, the turnpike's project engineer. "It's going well."
The roundabout at the West Lawrence interchange, which is exit 202, is the first of its kind for the Kansas Turnpike Authority. It handles traffic coming into Lawrence from the east, and funnels traffic leaving town onto the turnpike toward Topeka.
The roundabout opened just before Thanksgiving, in time for one of the busiest travel times of the year, and thus far has lived up to its functional design: allowing both incoming and outgoing traffic to merge safely, at comfortable speeds, with no difficulties.
None that can be documented, at least.
"We haven't had any accidents," said Lisa Callahan, a spokeswoman for the turnpike authority. "But it is new, and it is different and it does take some adjusting."
Bryan McQueen sure found that out.
McQueen, who lives near the Lawrence Holidome, noticed recently that the north side of the interchange had reopened and last week, for the first time, crossed the new bridge to head toward Topeka.
"I was so confused. I wasn't expecting it. I did not know that they were doing that at all," said McQueen, who makes the trip daily, as he's performing in "Annie Warbucks" at the Topeka Civic Theatre & Academy through Dec. 21.
"I mean, I'm used to roundabouts. We have them all over town. But, just for a second, I was like … what is going on? I just didn't realize that there would be one there."
Neither did the driver in front of him, apparently. That vehicle was moving along at a snail's pace before finally turning right into the roundabout and on around to the ramp leading back onto the turnpike and on toward Topeka.
No stops. No bumps. No wrecks.
"You can figure it out," McQueen said Thursday, with a laugh. "I think we're all going through the same thing."
Capt. John Walters, of the Kansas Highway Patrol, said it wouldn't be unusual for drivers to "grump" about the new roundabout, given its novelty on the turnpike. But he's confident that drivers have negotiated the circle with ease, and will continue to do so.
"It's working as it's designed to work," said Walters, who oversees troopers who patrol the turnpike.
Appropriate signs are posted along both the bridge and ramp that lead into the roundabout, preparing drivers for what lies ahead, he said. But that doesn't mean drivers won't turn the wrong way, brake before deciding which way to go or otherwise inappropriately use a traffic feature that's supposed to increase efficiency and ease, not compromise it.
"It's about like anywhere," he said. "We can put up a lot of signs for a lot of things — warning signs, directional signs. We can have a lot of signs up, but a lot of the signs we put up people don't see. …
"You have to look at the signs to know where you're going."
Ashley Anstaett, who commutes to her state government job in Topeka, doesn't really have a problem with the roundabout. Her trip Thursday through the roundabout — her first since it opened — went just fine.
"It makes sense," she said.
Even better, in her mind, will be the turnpike's next roundabout, the one going in at the East Lawrence interchange, the one she uses regularly. The current arrangement at exit 204 is too tight, she said, because the current on-ramp heading toward Topeka makes it difficult to get up to "road speed" before merging into traffic.
The new roundabout and related work, expected to come in 2010, will be designed to change all that.
"I look forward to that one," she said.
Copyright 2018 The Lawrence Journal-World. All rights reserved. This material may not be published, broadcast, rewritten or redistributed. We strive to uphold our values for every story published.