Photo Gallery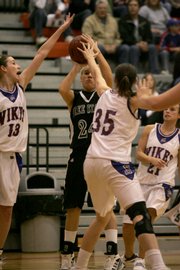 Free State girls vs. Topeka Seaman
Photo Gallery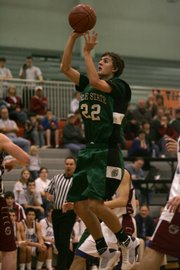 Free State boys vs. Topeka Seaman
Bonner Springs — Free State High girls basketball coach Bryan Duncan was less than pleased with his team's effort in a semifinal loss at the Bonner Springs Metro Prep Classic on Friday night.
So instead of returning to town and letting his girls get a jump-start on their Winter Formal weekend, Duncan called for a late-night practice.
The result of that impromptu run-through was a spirited showing Saturday in the third-place game, where the Firebirds (2-1) knocked off Topeka Seaman, 33-31.
"We did not play well Friday night," Duncan said. "But I thought the kids responded with a lot of desire and focus today and really showed that they wanted to win."
Free State and Seaman combined to miss the first 31 shots of the game, and the Firebirds owned a 2-0 lead after one quarter.
The shooting drought was not broken until junior guard Susan Wilson hit a jump shot from the free-throw line with 5:01 to play in the second quarter, snapping a streak of 11 straight misses by the Firebirds. Wilson's bucket gave FSHS a 6-0 lead while the Vikings' slump continued. Seaman's first made basket came at the 2:56 mark of the second quarter when Jessica Sowards nailed a three-pointer to cut the FSHS lead to 10-3. Seaman closed the half on a 9-0 run and trailed by just one point at halftime, despite shooting 3-of-24 from the field.
"We held a very, very good team scoreless for 13 minutes of the game," Duncan said. "I was absolutely pleased with our defense today. Offensively, we still have some work to do, but that will come. Early in the season, defensive intensity is crucial, and I thought our effort was outstanding today."
A 10-3 run by the Firebirds to open the third quarter pushed Free State's lead back to eight points, but Seaman responded with a 10-2 run of its own to tie the game at 22 with 5:19 to play. That's when juniors Chantay Caron and Ashli Hill took over.
Caron was aggressive on the offensive end and found her shot in a variety of areas. Hill was a force on the defensive end, finishing with a school-record eight blocked shots.
"That was fun, that's a lot," Hill said. "It got to the point where I wanted them to get the ball in the lane so I could block their shots."
Hill led all scorers with 13 points, and Caron added 12. Senior Ashleigh Allam led the rebounding charge by ripping down 14 boards.
Copyright 2018 The Lawrence Journal-World. All rights reserved. This material may not be published, broadcast, rewritten or redistributed. We strive to uphold our values for every story published.