Photo Gallery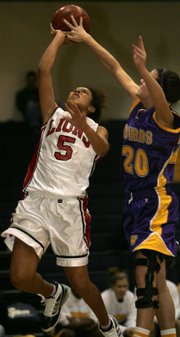 Lawrence High School girls vs. Bellevue West
Overland Park — Height disadvantage. Few subs. Foul trouble.
This dreaded triple-trouble combination was bound to nip Lawrence High's girls basketball team sooner or later.
Bellevue (Neb.) West High made sure it came sooner on Friday night. The Trailblazers exposed the Lions in all three areas of their 74-63 semifinal victory over LHS in the Saints Classic.
And help doesn't appear to be coming to LHS in the near future, as Lawrence can only wait out the early portion of its schedule for post player Shelby Miller and guard Cassie Potter to make their returns to the lineup in the coming months.
In the meantime, the Lions must grit their collective teeth and play through adversity with a six- or seven-player rotation.
LHS coach Kristin Mallory noted her team's inability to run a full-court press defensively and push the ball offensively.
"That's what made us real successful last year," Mallory said. "We still have the capabilities and the people, but without the extra subs, you can't ask those girls to go crazy and wear their legs out in a press situation when you're not giving them a sub."
Friday, Bellevue West demoralized Lawrence with two post players — Emily Hauder and Alexis Akin-Otiko, neither of whom is listed at taller than 5-foot-11.
The duo combined for 52 points. Nearly every bucket occurred in the paint. Lawrence's attempts to swarm both in the post proved futile.
Mallory tried a zone and threw five players on Hauder alone during the game — April Miller, Abbie Ramos, Taylor Bird, Jasmyn Turner and Emily Peterson. Hauder scored 30 points on 14-of-22 shooting and helped foul Turner out of the game.
"There's no way that two kids on the inside should be able to score 52 points on you in a zone," Mallory said. "So, you've got to get tougher on the inside. But that's a team effort. We can't put it all on our big kids."
The unproductive results left the Lions frustrated.
"We can't be afraid to touch their post," Bird said. "I think that's what our biggest problem was is that we don't actually body them up. We just kind of stand back and let them catch the ball."
Compounding the Lions' problems was the small rotation. Mallory used only two subs: Ramos and Peterson.
"I was tired," LHS guard Haley Parker said succinctly.
For a quarter, however, Lawrence seemed to be weathering the storm quite well.
Parker's layup with 55 seconds remaining in the first quarter pushed the Lions ahead, 20-18, before Hauder came back inside with a layin of her own to tie the score at 20 to end the quarter.
Lawrence never held a lead again.
A 10-0 Trailblazers run out of halftime in particular hurt the Lions, as did the constant pounding in the post. The closest LHS came the rest of the way was five points, the last time coming on Parker's bank shot in the lane to trim the deficit to 57-52.
Parker led LHS with 23 points. Bird added 18.
Lawrence plays its final contest of the Saints Classic today at 4:15 p.m. against Junction City in the third-place game.
Copyright 2018 The Lawrence Journal-World. All rights reserved. This material may not be published, broadcast, rewritten or redistributed. We strive to uphold our values for every story published.