Photo Gallery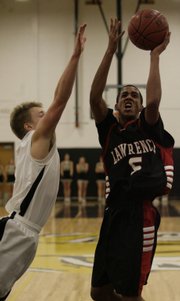 Lawrence High School boys vs. Blue Valley High School
Stillwell — In games decided by a single possession, coaches and players alike usually can pick out plenty of moments that could have changed the outcome.
The Lawrence High boys basketball team had several to chew on Friday night after an 82-80 semifinal loss to Blue Valley at the Blue Valley Shootout.
The game featured two high-octane offenses pushing the ball up and down the floor all night and included everything from missed free throws and ill-timed turnovers to pressure-induced airballs and 53 three-point attempts.
"I definitely feel like this was a game that could have gone either way," LHS junior guard Marcus Ray said. "One bounce here or one call there, and things could have been different. But it didn't go our way tonight."
Not for lack of effort.
Despite shooting just 1-of-11 from three-point range in the first half, the Lions trailed by just four at halftime, 35-31. Blue Valley built its lead by relying on long-range bombs of its own. The Tigers were 5-of-12 from beyond the arc in the first half and finished the game 12-of-31 from downtown.
Even that almost was not enough, thanks in large part to the performance by Lawrence High's Dorian Green. Green entered Friday's contest averaging 22 points per game. He nearly doubled that against Blue Valley, knocking in 14 of 29 shots — including four of 12 from downtown — on his way to a 37-point night.
Green was so good on Friday that Blue Valley at times sent two players to guard him. That didn't work either, as the suave LHS senior routinely shook one defender with the dribble and jab-stepped the other to create separation for his jumper. Green's dominance created open looks for his teammates all night. More often than not, they knocked the shots down.
"What we're trying to do is predicated on how other teams react to him," LHS coach Chris Davis said of Green. "Eventually, they're going to have to stop him. And when they do, I have a whole bunch of guys camped out beyond the three-point line who I'm more than comfortable with shooting the ball."
One such player Friday night was Ray, who delivered three of his nine points with a minute remaining on a dish from Green. Ray's triple came moments after Green knifed through the paint and nearly jammed home a layup to cut the Tigers' lead to two. Unfortunately for the Lions, between the two buckets was Blue Valley's final three-pointer.
After Ray cut the Tigers' lead back down to two, the LHS defense forced a 10-second violation and took possession, down by two, with 46 seconds to play. But back-to-back turnovers in a mad scramble near midcourt put Blue Valley back in control and the Tigers iced the game from the line.
"That's the tempo we wanted to play," said Green, who scored 19 of his 37 points in the third quarter. "I thought our offense looked a lot better (against Blue Valley) than it did (against Ponca City on Thursday). We didn't shoot very well, so to put up 80 points is pretty impressive."
Davis, who urged his team to attack all night, agreed with Green's assessment.
"We're changing gears so drastically, but I thought our offense was three or four steps ahead of where we were (Thursday)," Davis said. "So with that in mind, this was a step in the right direction. It's good for us to go through a game like this. Of course you want to win, but it's nice to go through our last-second stuff to see what's going to work and what isn't, or how guys are going to handle things in those types of situations."
The loss dropped LHS (2-1) into today's third-place game at 4 p.m. Lance Kilburn added 19 points for the Lions, who are looking forward to taking on Ralston (Neb.).
"There's a little bit of history there," Davis said. "I like the way they play, they like the way we play, and we always seem to get after it when we match up. Getting ready for that one won't be a problem. And the way we'll get up for it is by knowing that if we don't, they're going to kick our tails."
Copyright 2018 The Lawrence Journal-World. All rights reserved. This material may not be published, broadcast, rewritten or redistributed. We strive to uphold our values for every story published.