Photo Gallery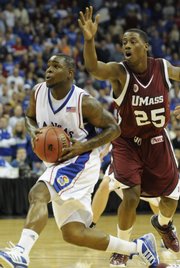 KU vs. UMass
Event
KU vs. Massachusetts
Where: The Sprint Center, 1407 Grand Blvd., Kansas City, MO
Age limit: All ages
Cost: Not available
-->
-->
-->
KU scoring
Collins 19 (6-for-21 shooting), Aldrich 12, Reed 9, Morningstar 7, Teahan 5, Marcus Morris 4, Taylor 3, Thomas 1.
KU finished 21-for-62 from the floor (34 percent). UMass was 22-for-48 (46 percent).
UMass 61/KU 60 — FINAL
Collins gets the ball coming around a screen, and he forces up a long shot with the left hand that bounces out. Teahan gets the rebound, but he's hounded inside. He tries to get the ball back out to an open Reed, but Reed's shot goes up after the buzzer. UMass comes away with the stunner.
UMass 61/KU 60 — 13.3 seconds left in game
Lowe is fouled after getting into the frontcourt, and he misses both free throws. On the other end, Lowe grabs Collins on a drive, and two officials blow the whistle. KU still isn't in the bonus, though. Timeout, UMass.
UMass 61/KU 60 — 27.8 seconds left in game
Collins is fouled on a drive but makes only one free throw. On defense, the Jayhawks look to come away with a steal, but the same official that T'd up Self makes a phantom call on Taylor just as the freshman is coming away with a steal.
After a UMass free throw, Collins stepped up and drained and NBA three-pointer to pull KU within one at 61-60.
UMass 60/KU 56 — 55.4 seconds left in game
Marcus Morris shoots and misses a three out of the timeout. Even Lew Perkins is disappointed with that shot.
Marcus Morris gets a foul with 1 second left on the shot clock. Questionable call at best. Harris makes both free throws.
KU can't buy a shot. After two missed threes and two offensive rebounds by Morningstar, Collins misses a forced-up shot from 18 feet.
The Jayhawks get a stop but again can't make a three. Morningstar and Reed both miss threes, and Gaffney pulls away the rebound.
UMass steps out of bounds to turn it over, but KU is running out of time.
UMass 58/KU 56 — 3:34 left in game
KU's defense forces a shot-clock violation, and Taylor drives around a pair of defenders for a layup inside.
Taylor is called for a hand-check, and after the foul, Self is T'ed up. Self probably deserved a T earlier, but he didn't deserve that one. I was watching him the whole time, and all he did was throw both arms away from him in disgust. I did not see him say one word. Harris made both free throws. What a big call at a crucial time in the game.
KU gets a stop, and Aldrich hits a turn-around on the other end to pull KU back within one at 55-54.
Lynch gets a layup and free throw inside to respond for UMass.
Collins comes back with a layup off a drive. KU's defense forces another shot-clock violation, and the Jayhawks will have the ball after the break.
UMass 53/KU 50 — 7:19 left in game
Harris hits a three from the corner, and Collins makes another stupid play, immediately forcing a bad three up. His leadership has definitely left something to be desired today.
Later, Morningstar takes one all the way to the rim, putting it off the glass for two.
After Self subbed three freshmen in, Marcus Morris tied the game with a turn-around jumper.
Taylor gets a big block, but instead of kicking back out to Collins for a three in transition, he drives all the way in and misses a tough shot. Markieff Morris get the rebound and is fouled but misses both free throws.
Gaffney gets a rejection inside on a Morris twin, and David Gibbs turns it into points, hitting a three from the corner in transition. Coming in, Gibbs averaged 2.4 points per game.
UMass 47/KU 46 — 11:56 left in game
A tough shot by Lowe rattles in, but Reed answers with another three to give KU a 46-45 lead.
Aldrich goaltends on a Lynch shot, and UMass grabs back the lead.
UMass 43/KU 43 — 13:22 left in game
Following a Lynch free throw, the just-subbed-in Reed hits a three from the side to cut the lead to two.
After a big block from Aldrich, Collins drove around Gaffney for a left-handed layup to tie it. Great move by Collins to get around the long shot-blocker. Timeout UMass.
UMass 42/KU 38 — 15:26 left in game
Gaffney forces up a shot over Aldrich that falls in. After a bad shot by Morningstar, Gaffney hits two free throws.
Collins answers with a pull-up jumper from 16 feet. Later, Aldrich gets a stuff inside to pull KU back to within six at 40-34.
Reed has blood coming out of his nose, so he's taken out of the game. It's too bad, as he's been KU's best player so far today.
Harris floats another two off the glass before Teahan gets loose underneath for a lay-in on an inbounds play.
After a steal, Collins gets an offensive rebound and bounces one in for two.
KU scoring
Cole Aldrich 8, Sherron Collins 7, Brady Morningstar 5, Tyrel Reed 3, Conner Teahan 3, Marcus Morris 2, Tyshawn Taylor 1, Quintrell Thomas 1.
KU was 8-for-28 from the floor (29 percent), while UMass was 15-for-27 (56 percent). The Jayhawks are dominating the boards, 24-11. The Minutemen, meanwhile, have made 5 of 11 threes (46 percent). KU has made 2 of 9 shots from the outside (22 percent). The Jayhawks also have 10 turnovers.
I was mistaken earlier when I said Gaffney had two fouls, as he actually has three. He's been a force inside with six rebounds, four blocks and three steals. The Jayhawks would be helped immensely if they could get his fourth (and fifth) foul.
KU needs better leadership in the second half. Collins once again was playing with his emotion and not with his head. Aldrich had a pair of bad turnovers and wasn't as active as he needed to be. All five of KU's freshmen were benched during crunch time.
Who will step up for KU? The Jayhawks will need someone to do so in the second half if they hope to make up the rest of this deficit.
UMass 36/KU 30 — Halftime
Gaffney wiggles around his man inside for two. He's giving KU fits inside, as he has five rebounds and four blocks according to our unofficial stats.
Collins gets two free throws after a questionable call on the outside. It looked like Collins walked from our vantage point. He made both free throws.
Harris schools Collins on a move to the rim, and much like the Syracuse game, Collins raced to the other end to try to make up for his mistake. He missed a forced shot, but KU received the ball out of bounds. Tyrel Reed followed with a three, then drew a charge on the other end to get some positive momentum for KU.
Teahan keeps the mojo going, coming around a screen and scooping in a layup with a foul. His free throw cut the lead to 34-26.
Collins followed with a steal and was fouled in transition. This is probably the loudest I've heard any KU crowd this year. Collins hit both free throws.
All KU's freshmen are on the bench. Interesting to see Self do that when he needed a run.
After surviving a defensive possession, Morningstar gets an over-the-back call on Gaffney, the big man's second foul. Self was hot on the sideline, wanting a foul earlier in the possession. All of KU's assistant coaches had to restrain him, as he came within an eyelash of a technical foul.
Morningstar hit the two free throws, but Lowe answered with a basket on the other end.
Collins went coast-to-coast in the final 6 seconds but missed a short shot off the glass before slapping the floor in frustration.
UMass 29/KU 18 — 3:50 left in 1st half
Tyrell Lynch puts in an open 15-footer in the lane. He waited for a KU player to guard him, but when no one did, he went ahead and drained the open shot.
Aldrich forces a terrible pass inside, and Harris finishes on the other end with a layup. UMass up six. Timeout KU.
Another turnover KU, and Harris drains another three. That's 12 points for him.
KU misses another outside shot, and Lynch hits from 18 feet. UMass up 11.
Collins is making some horrible decisions out there. He forced up a three with KU down, and on the next possession, threw a ball off the bottom of the rim on a drive. He needs to settle down on the offensive end, as he's trying to force too much right now.
Quintrell Thomas finally breaks KU's slump, as after getting fouled inside, he makes a free throw. Aldrich cleans up the second miss, getting an offensive rebound and drawing Tony Gaffney's first foul. Aldrich hits both freebies.
The crowd gets into it but is quickly silenced when Glass hits his second three to go with a foul. He's making quite an impression in his second start for UMass.
UMass 17/KU 15 — 7:59 left in 1st half
UMass's Chris Lowe gets one to bounce in on a drive to the lane, but Morningstar answers on the other end with a three from the top.
After two straight Minutemen baskets. Self calls timeout. He's not happy, giving some extra screams to Markieff Morris.
Following the break, Taylor forces up a bad shot but is bailed out by a foul, making one of two free throws. Later, Harris hits a three from the side, and the KU fans are concerned as they see their team fall behind 17-15.
KU 11/UMass 8 — 11:42 left in 1st half
Aldrich hits a guarded baseline jumper, and Collins twirls under the basket before laying one in for two.
Self continues to hound his players on the sideline about their defensive assignments. Before the media timeout, Brady Morningstar is getting lectured.
This looks to be a scary team for KU to go up against, and I think Self knows it.
KU 6/UMass 3 — 15:48 left in 1st half
UMass's Matt Glass gets the first points, a three from the top of the key. Coming in, Glass averaged 2.1 points per game.
Cole Aldrich gets a two off an offensive rebound, and Marcus Morris follows with a turn-around in the lane to give KU the lead at 4-3.
A quick move by Tyshawn Taylor to the basket gets an open shot for Aldrich, who drains the 8-footer.
KU coach Bill Self has been on his team early. He has yelled at them often to take care of their assignments on the defensive end. Doesn't seem like he's overlooking the Minutemen.
1:04 p.m.
The public-address announcer just said this:
"Good afternoon, ladies and gentlemen. Welcome to Kansas City and the Sprint Center, home of the Jayhawks!"
It just didn't seem right.
By the way, the starting five is back to Collins, Aldrich, Morningstar, Marcus Morris and Taylor.
12:54 p.m.
Let me clarify as well: KU's games against Washington and Syracuse at the Sprint Center earlier this year were not home games because they were part of a tournament.
12:52 p.m.
This is technically a home game for KU, meaning the alma mater was performed and I'm assuming the intro video will be played.
The Jayhawks have a 30-game home winning streak on the line. Wouldn't it be a shame if the Jayhawks ever lost that streak because of a setback at the Sprint Center?
12:40 p.m.
A random sampling of the signs in the KU student section: "Rock Chalk Mohawk," "Brady Morningsleeves," "Go Cole Train," and "I'm glad I'm watching KU instead of studying for finals."
12:35 p.m.
Official Steve Welmer has once again graced the Jayhawks with his presence. Is that KU game No. 2 or No. 3 for him?
12:30 p.m.
First report on the mohawks from Tyshawn Taylor and Sherron Collins: I don't think they look that bad. Their hair is so short to start that the style is nearly impossible to see from the side.
Make sure to vote in the poll on the left to let your feelings about mohawks be known.
12:10 p.m.
Welcome back to The Newell Post Live, coming to you from the Sprint Center where the Kansas Jayhawks are getting ready to take on the UMass Minutemen.
A few notes on UMass to start things off:
•Ricky Harris leads the team with a 21.3 point-per-game average. He's also hitting 43 percent of his three-pointers. Interestingly, through eight games, he has just 10 assists. Look for Tyshawn Taylor to get this defensive assignment.
• Tony Gaffney, or "T-Gaff" as they call him, comes in as UMass's main force on the boards. He's averaging 12.9 rebounds and 5.4 blocks per game. He's also second on the team with a 13.3-point average. Though he only stands at 6-foot-8, the Boston University transfer has some ups. According to the media guide, he also likes to play Solitaire in the locker room before games.
• The Minutemen aren't getting much production from their bench. UMass has four players averaging 12 points or more per game (Harris, Gaffney, Chris Lowe, Anthony Gurley), but everyone else is averaging 4 points per game or less.
• UMass coach Derek Kellogg spent eight seasons as an assistant at Memphis. He was a three-year starter for UMass in the early '90s under former coach John Calipari. When he was recruited by Calipari, one radio personality in the area said that Calipari should be fired for wasting taxpayer money. Kellogg turned into a two-year captain for the Minutemen.
• Though UMass doesn't have an impressive record at 2-6, it has played well in its last two games. The Minutemen lost in overtime to Boston College, 85-81, last Saturday before beating Holy Cross, 73-59, on Wednesday.
Copyright 2018 The Lawrence Journal-World. All rights reserved. This material may not be published, broadcast, rewritten or redistributed. We strive to uphold our values for every story published.