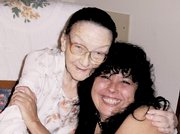 Bonner Springs — While she was growing up, Debra Newman never felt as if anything was missing.
She had two loving, adoptive parents and three siblings who all formed a close family. But now, at age 50 and with all but one brother dead, the Bonner Springs resident is feeling an intense void in her life that she's starting to realize was there all along.
"I always knew that something was missing a little bit. Like I'm an artist. Where did I get that from? But it never felt like a big hole," she said. "After the Newmans passed away, that hole got bigger. But now I don't feel that way. I've got my family back."
From as young as she can remember, Newman's adoptive parents, Archie and Martha Newman, were open with her about her adoption status. She grew up a happy child on a farmstead in the small town of Carrollton, Mo., with little thought about her birth family.
At age 17, Newman's adoptive mother asked her if she wanted to know anything about her birth mother. Newman wasn't entirely interested but decided she just wanted a name.
"Her name was Dorothy Appleberry," Newman said. "And that's all I ever knew until October 27."
Little did Newman know, not only was her birth mother out there waiting for her, but also nine siblings. For the first time in years, Newman found her family, and just in time for the holidays.
It all started when Newman was watching a TV show called "The Locator." The show follows a man who searches out lost family members for people. That got Newman thinking.
She remembered a business sign back in Carrollton that she passed on a regular basis during her childhood: Appleberry Realty. She wasn't sure if there was a connection, but she figured it was a good place to start.
To her surprise, the person on the phone knew exactly who Newman was looking for and gave her the number of a 69-year-old man who was supposed to be her oldest brother. Newman called her brother and thus began the start of her new family.
Over the next week, Newman was in touch with several more siblings and found why her mother put her up for adoption.
At age 19, Dorothy became an unmarried mother to her first child. After a few years she met and married a man with whom she had five more children. Then came Newman.
Newman said that there was some question as to whom her father was, but it's nearly impossible to prove because both men are dead. At the time of her birth, Dorothy was on welfare with six other children to feed. Newman said a social services agency told her mother she would either have to give Newman up for adoption or have all of her children taken away.
Newman spent the rest of her young life living in the same town as her birth mother and siblings. She said many of her brothers and sisters knew who she was and watched her grow up, fighting back the urge to say something.
With the missing pieces of her life falling into place, Newman was determined to take it a step further.
She arranged a gathering with her siblings in Carrollton. All who could make it met her in the town's McDonald's and with tears, hugs and a whole lot of talking, Newman was reunited with her family.
The day didn't end with the meeting of her siblings. She had one more person she wanted to see.
As she walked down the long hallway of an assisted living home in Carrollton, Newman's mind raced. She came to a door and knocked. When the door opened, Newman saw her mother for the first time and burst into tears.
The two spent the rest of the day talking and making promises to meet again.
Newman said for the first time in many years, she feels complete again and has gotten questions answered that she always wondered about.
Newman plans to return to Carrollton to spend Christmas there and said she can't wait to get to know the people she's waited so many years for.
"It's nice to have family for the holiday," she said. "I realized that I'm at a place where I've pushed 'reset.' I feel like I'm starting a whole brand new life with a new family."
Copyright 2018 The Lawrence Journal-World. All rights reserved. This material may not be published, broadcast, rewritten or redistributed. We strive to uphold our values for every story published.