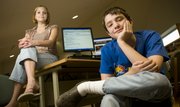 It's a job professionals are paid tens of thousands of dollars to do in the real world. But free food and limited homework are sufficient for three South Junior High School students.
Samantha Board, Andrew Stussie and Megan Tunget are the student webmasters of the school's Web site: schools.usd497.org/sjhs.
Once you get past the thunderous cougar roar that welcomes you to the school's spirited homepage, the site gives students an outlet to catch up on current and past happenings at SJHS and a place to go when they forget their homework assignments.
"It's pretty cool," says Stussie, a ninth-grader. "I like our craftsmanship and our uniqueness I think we have over all the other schools."
"We try to put ... our personality into it," says Tunget, also a ninth-grader. "It's our peers who are looking at it."
The student webmasters get to skip out on one regular class for a year to update the site. There's an application process the students go through before being handpicked each year by Marcia McPhail, the school's information resource specialist who oversees the students' work.
Their regular duties include taking pictures of school events and posting them, updating school calendars and finding other ways to engage fellow students. They also have responsibilities in the school library. But the students say the best part is that McPhail treats them to occasional meals for their hard work.
"It's definitely a bonus to have no homework and get food," says Board, a eighth-grader.
While they all seem to enjoy their role as webmasters, the students also realize they're gaining knowledge that could prove beneficial when they enter the real ever-advancing technological world.
"It's important for me to get as much experience as I can … to see what I want to do," Tunget says.
Copyright 2018 The Lawrence Journal-World. All rights reserved. This material may not be published, broadcast, rewritten or redistributed. We strive to uphold our values for every story published.