Spodcasters
Postgame: Kent State
The guys (Matt Tait, Jesse Newell) tie up loose ends following KU's 87-60 victory over Kent State. The two give their offensive and defensive grades, name their most valuable and least valuable players and talk about what they liked and didn't like from the Jayhawks in their 27-point win.
Audio Clips
2008 KU-Kent State basketball
Audio Slideshow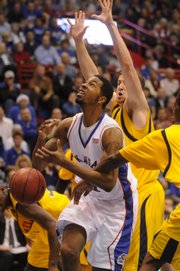 KU vs. Kent State
-->
Event
KU vs. Kent State
Where: Allen Fieldhouse, 1651 Naismith Drive, Lawrence
Age limit: All ages
Cost: Not available
-->
-->
KU 87/Kent St. 60 — FINAL
Sherron Collins scored a game-high 19 points — including 16 in the second half — as Kansas ran away with an 87-60 victory over Kent State on Monday at Allen Fieldhouse.
In a physical game, KU pulled away with good free-throw shooting. The Jayhawks made 32 of their 36 free-throw attempts (89 percent), and six KU players were perfect from the line.
"It was a great game for us because it was a no-rhythm game," KU coach Bill Self said. "We also played without Sherron for most of the first half. I was pleased. If we had made our layups, that was probably the best first half we have played all year."
Marcus Morris posted a career-high 14 points to go with 10 rebounds. Cole Aldrich also added a double-double with 10 points and 13 rebounds.
"He has to be the most improved player in college basketball," Kent State coach Geno Ford said of Aldrich. "A year ago watching him wasn't that impressive, and now I watch him and he is amazing. He certainly is a big-time player at this point."
Tyshawn Taylor contributed 12 points.
KU was able to take advantage of 20 Kent State turnovers, scoring 31 points off those miscues. KSU (3-3) also had 28 fouls to KU's 18.
The Jayhawks out-rebounded the Golden Flashes, 40-31.
KU also was able to keep Al Fisher in check, as the reigning MAC conference player of the year scored just five points on 2-for-11 shooting.
A pair of free throws by KSU's Chris Singletary cut the KU lead to 67-55 with 6:13 remaining, but Collins went on a personal 8-1 run to push KU's lead back to 19.
"Sherron did take over the game in the second half, there is no question," Self said. "He played really good down the stretch."
KU (5-1) will play host to New Mexico State at 7 p.m. Wednesday at Allen Fieldhouse.
Kansas scoring
Sherron Collins 19 (16 in second half), Marcus Morris 14, Tyshawn Taylor 12, Cole Aldrich 10, Brady Morningstar 9, Markieff Morris 6, Tyrel Reed 6, Travis Releford 5, Quintrell Thomas 4, Tyrone Appleton 2.
The Jayhawks finished 32-for-36 from the free-throw line (89 percent). Marcus Morris was 8-for-12 from the line, as he had all four of the Jayhawks' misses from the charity stiripe.
KU 87/Kent St. 60 — FINAL
Collins gets two more free throws, then picks up a steal on the other end. Following a fancy, 360-degree dribble, he dished to Marcus Morris, who put in a layup with a foul. Marcus completed the three-point play with a free throw.
Collins is showing all the moves now, dribbling into the trees inside before spinning in a layup off the glass.
Tyrone Appleton dishes off a nice pass in transition, giving a no-look feed to Travis Releford for a jam.
The next possession, Releford rainbows in an open three from the left wing. He's scored a ton of points for the amount of minutes he's played this year.
After a KSU free throw, Appleton takes it straight to the rim for a layup. That completes the scoring, as the Jayhawks come away with an impressive 27-point victory over the Golden Flashes.
KU 73/Kent St. 55 — 3:35 left in game
Singletary goes up strong, putting in a lay-in while getting fouled by Collins. Singletary completes the three-point play with a free throw.
Aldrich drops a well-thrown lob by Morningstar, and Mike McKee drains a three from the top to pull KSU within 14 at 67-53. Timeout Self.
Marcus Morris can't finish a layup inside, and Taylor gets a cheap foul call up top. Singletary makes two free throws, and the fans give their concerned cheer of encouragement.
KU misses three layups inside, two off of tips. KSU follows with a missed pair of layups on the other end.
Collins finally breaks up the drought, getting a finger-roll to bounce in. The Flashes call timeout.
On the next possession, Collins picks his way through the lane before putting one off the glass and in. Collins hits a pull-up off a screen, and this is the best he's looked since early in the Syracuse game.
KU 67/Kent St. 47 — 7:45 left in game
ESPNU analyst Doug Gottlieb is shown on the video board, labeled as "Shorts on Backwards." He's too busy texting to notice.
Another foul, another two free throws made for Reed. This is starting to get ridiculous.
Taylor has the ball slip out of his hands and out of bounds, and he looks up to the sky in disbelief.
Thomas gets a two off an offensive rebound, but he gives up two after Singletary puts in a shot over him a few seconds later.
KSU's gone to a press, but KU has broken it twice pretty easily. The Flashes also have dropped back into a 2-3 zone, but the Jayhawks have gotten offensive rebounds off it two straight possessions.
KU 58/Kent St. 38 — 11:58 left in game
Marcus Morris again powers his way inside, drawing a foul before hitting two free throws.
KSU coach Geno Ford gets a technical, and KU students immediately bring out the "You let the whole team down" chant. Collins hits two free throws.
Collins makes a no-look feed inside, dishing to a cutting Morningstar who gets hacked. He hits two free throws, and KU has made 16 straight free throws.
The game has slowed to a crawl, as frequent whistles are killing the flow.
Marcus Morris gets held inside, and already KU is in one-and-ones at the 14:03 mark. He ends KU's free-throw streak with a brick off the back iron.
Mike McKee bounces in a three for KSU, but Taylor answers with a trey of his own.
There's a bad collision inside on a rebound between Aldrich and Collins, and later Collins gets close to official Tom O'Neill, asking why a foul wasn't called.
Marcus Morris hits two free throws. KU now has shot 21 of them with 13 minutes left.
Reed gets fouled in transition, and that makes 10 team fouls for KSU with 12:55 left. Reed sinks both shots.
Another foul on KSU puts Quintrell Thomas at the line. He makes two free throws.
KU 43/Kent St. 31 — 15:13 left in game
On a loose ball, Kent State calls timeout, and Markieff Morris gets in a short scuffle with a couple KSU players. KU assistant coach Danny Manning steps in quickly to grab Markieff Morris and escort him back to the KU bench. Markieff still gets hit up with a technical foul.
During the break, Todd Reesing's game-winning pass against Missouri is shown on the video board. Later, the video board shows Reesing sitting at tonight's game, and the KU alumni section gives him a standing ovation.
Chris Singletary makes one of the two technical free throws.
KU 43/Kent St. 30 — 15:53 left in game
Taylor drives the lane, finally getting a layup to go down.
Collins forces up a guarded shot in the lane that falls in.
Marcus Morris looks like he has made it his mission to be tougher inside. After grabbing an entry pass with one hand, he muscles a shot up and gets hit on the arm. He puts in both free throws, and KU has a comfortable lead at 43-27.
Anthony Simpson hits a three for KSU to get the Flashes back within 13.
KU 37/Kent St. 24 — Halftime
Kansas scoring
Cole Aldrich 8, Brady Morningstar 7, Tyshawn Taylor 7 (3-for-10 shooting), Markieff Morris 6, Marcus Morris 4, Sherron Collins 3, Tyrel Reed 2.
KU made 13 of 31 shots in the first half (42 percent). Kent State was 10-for-26 (39 percent) with 14 turnovers.
Other stats:
• KU was 8-for-10 from the free-throw line.
• KU had 19 points off turnovers; Kent State had none.
• Fisher had five points on 2-for-5 shooting. He came in averaging 2.1 8 points per game.
• Kent State out-rebounded KU, 19-17, in the first half.
• KU had 10 assists on 13 made field goals.
• KU had just four first-half turnovers.
• Collins played just 10 first-half minutes after picking up two personal fouls.
• Morningstar had four first-half steals, while Taylor had three.
KU 37/Kent St. 24 — Halftime
Taylor looks like he's pressing a bit, especially because his shots aren't going down. After missing a shot, he stepped out of his game, trying to pull up for a fadeaway from 12 feet that hit back iron. On the other end, Fisher put in his first basket after getting separation from Taylor, and Self calls timeout.
Reed throws a lob inside to Marcus Morris, who clears some room with his backside before laying it off the glass for two.
Fisher hits a three while fading away, and he appears to be heating up.
Aldrich, after getting hammered in the paint, makes two free throws. He's shown great touch from the line so far this season.
KU ignites the crowd at the end of the half with a brilliantly executed play. The Jayhawks forced a shot-clock violation and took possession with two-tenths of a second left. Needing a tip to score, Marcus Morris threw the ball towards the hoop, and Aldrich came off a screen to dunk it in. Self raised his hands in the air in celebration, but after three minutes and video review, the officials waved the basket off.
KU 31/Kent St. 19 — 3:54 left in 1st half
Markieff Morris makes an unselfish play, giving up an open jumper to make a pass inside to Aldrich. He finished with a two, and the Jayhawks have racked up a ton of assists.
Woods drains his second three. His release is unorthodox and a little ugly, but the results (2-for-3 from three-point range) have been good so far.
KU has gotten good shots but hasn't been able to hit them. Aldrich misses a short jump-hook, and on the next possession, Taylor misses another layup on a fast break.
Aldrich gets a 6-footer to go down on a feed from Collins, and KU has extended its lead to 31-17.
Travis Releford's gets beat by his man on the offensive glass, and KU coach Bill Self hops off the bench, yelling out in frustration. KSU will have a three-point play opportunity after the timeout.
KU 27/KSU 14 — 7:35 left in 1st half
Brady Morningstar picks up where he left off, swishing a guarded three from the left wing.
Taylor breaks open on an inbounds play under the basket, yelling "Oh yeah" before receiving the pass and putting it in for a layup.
KU takes advantage of two consecutive steals. Morningstar puts in two free throws after getting fouled on the break, and on the next possession, he catches a tough pass from Taylor and softly lays it off the glass on a reverse lay-in.
There's another steal for Taylor, but after getting a feed in transition from Collins, Taylor's shot is too strong off the glass.
KU 18/KSU 12 — 10:37 left in 1st half
Tyrel Reed checks in and immediately scores, hitting an 18-footer off a screen.
Reed gets an extra possession for KU, diving for a loose ball that Collins eventually comes up with. A few seconds later, Collins drives to the basket, then finds an open Markieff Morris across the lane. Markieff is fouled and hits both free throws.
After a KSU bucket off an offensive rebound, Markieff Morris gets an entry pass and muscles one off the glass for two.
Taylor gets creative on the outside, faking like he's going to use a Morris screen before swishing a three.
We're more than nine minutes in, and KSU's Al Fisher has no points on 0-for-2 shooting.
KU 9/KSU 5 — 15:34 left in 1st half
Marcus Morris gets a lay-in off a feed from Morningstar for a quick two.
After Collins draws a double-team, he makes a nice pass inside to Marcus Morris, who gets fouled. Marcus misses both free throws.
Taylor gets two on a drive, using his quickness to go around a Kent State player trying to draw a charge.
Cole Aldrich hits a short jumper outside the lane to increase KU's lead to 6-2.
Aldrich impresses on the defensive end as well, blocking two consecutive shots from 6-foot-10 Brandon Parks. Parks then commits a frustration foul, his second of the game. He'll sit with the two personals.
Aldrich gets another block, and quickly Marcus Morris feeds Taylor on the break. Taylor gets stuffed by the rim on a one-handed jam, though. Maybe Manning should have let him practice dunks before the game.
A pass from Aldrich gets Collins an open three, and he drains it. Rashad Woods follows with a trey of his own to keep Kent State within four at 9-5.
8:01 p.m.
No changes in the starting five: Collins, Aldrich, Mc. Morris, Morningstar and Taylor.
7:53 p.m.
It doesn't look like we'll have a full house tonight. The northwest corner has about 10-15 rows empty at the top. Strange, especially considering the students are back from Thanksgiving break.
7:49 p.m.
Before the game, the KU public-address announcer explained a new feature at Allen Fieldhouse: a decibel meter. Don't know how much it will be displayed, but apparently, at some points in the game, the videoboard will show exactly how loud the Fieldhouse is getting. Apparently, during the championship video at Late Night, the meter hit somewhere in the 102 range, the loudest it's been so far this season. The only other arena I could think of with a decibel meter was the old Hearnes Center at Missouri.
7:27 p.m.
A funny moment before the game. KU assistant coach Danny Manning was working with the bigs on dunking, bouncing the ball off the floor to give each of them a chance at an alley oop.
KU guard Tyshawn Taylor, with a smile, snuck his way to the front of the line. When Manning saw him, he took the basketball, and instead of bouncing it, he threw it out of bounds. Then he laughed.
A disappointed Taylor left the big-boy line after that.
7:10 p.m.
Welcome back to the Newell Post Live, coming to you from Allen Fieldhouse where the Kansas Jayhawks are getting set to take on the Kent State Golden Flashes.
In the postgame press conference after his team's 85-53 victory over Coppin State, KU coach Bill Self was asked to evaluate Kent State. He gave an honest response.
"This is one of those games, as the season goes on, as it gets closer, it's like, 'Why did we schedule them?'" Self said.
Make no mistake. Kent State is a dangerous team. The Flashes lost to Illinois in overtime (69-63) and also only fell to Texas A&M; by six (77-71).
KSU comes in as an experienced team as well. The team's starting lineup is made up of three seniors and two juniors — as compared to a KU starting lineup with a junior, two sophomores and two freshmen.
This is one of those games that Jayhawks fans might expect a blowout based on name alone, but it probably won't be that easy.
Remember, Kent State was 28-7 last season. The Flashes also have the reigning Mid-American Conference player of the year in Al Fisher, who's averaging 21.8 points and 3.4 assists per game. He scored 27 of his team's last 28 points in an overtime victory against St. Louis just 12 days ago.
Could KU blow out Kent State? Sure. But I'm not expecting it. I'll go with a six-point victory for the Jayhawks (the line is at 14).
Here's an early warning to everyone reading, though: This game might be closer than you thought it would be.
Copyright 2018 The Lawrence Journal-World. All rights reserved. This material may not be published, broadcast, rewritten or redistributed. We strive to uphold our values for every story published.