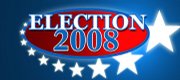 In-depth coverage of the candidates and the issues, all leading up to the Aug. 5 primary and the Nov. 4 general election.
Kansas delegates were wowed by Obama's speech and the historic nature of the night.
"I thought he touched so many issues and he touched so many hearts," state Sen. Marci Francisco, D-Lawrence, said.
State Rep. Paul Davis, D-Lawrence, said Obama's speech and the excitement of the crowd "was like nothing I've ever witnessed before."
He added "there wasn't a dry eye" where the Kansas delegation was sitting on the floor of the stadium a little to the left of the podium.
Davis said Obama made a strong case for his candidacy and positions. And, he said, Obama made it clear that he would not let attacks go unanswered.
Both Davis and Francisco said they really appreciated the part of the speech where Obama said his candidacy wasn't about himself but about those who wanted to see change.
Asked it if would be worthwhile to campaign for Obama in Kansas, which hasn't supported a Democratic presidential candidate since 1964, Francisco said it was.
"Campaigning in Kansas is not about how many votes Barack Obama can get," she said. She said it was about showing voters that what must happen "to make America work again."
Democratic National Convention
Copyright 2018 The Lawrence Journal-World. All rights reserved. This material may not be published, broadcast, rewritten or redistributed. We strive to uphold our values for every story published.