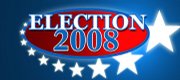 In-depth coverage of the candidates and the issues, all leading up to the Aug. 5 primary and the Nov. 4 general election.
As Barack Obama took to the stage Thursday night in Denver to formally accept the Democratic Party's nomination for president, Liberty Hall was filled with hundreds of his Lawrence supporters along with their deafening sounds of jubilation.
The Douglas County Democratic Party played host to a watch party for people to celebrate together history in the making.
It was a day many had been anticipating for years.
For Wayne Walker, 45, a Lawrence union worker, he's waited half his life to see a presidential hopeful express the change he wants to see, he said.
Over shouts of, "Yes we can," in the theater audience following Obama's speech, Walker said the one thing from the speech that resonated with him the most was "the truth."
"It's the truth of his speech," he said. "It seems like we've been going backwards, stepping forward. We need unity and love in the world. It chokes me up to talk about it, but we need it now. And I think we can do it."
Barbara Kerr, 56, has waited to see Obama come this far, as the first black candidate to lead a major party's ticket for president of the U.S., since 2004.
When Kerr, a Kansas University psychology professor and Eudora farmer, witnessed Obama give a keynote speech at the 2004 Democratic National Convention, she said she saw a leader.
"I remember looking at him and saying, 'Wow, that's our next president,'" she said. "And that's what I hope happens."
Watching Skye Coleman, 26, an Overland Park engineer, stand and cheer for several of Obama's points, one would never have known he wasn't on board with Obama from day one.
"It was absolutely amazing," he said. "He hit all the progressive points and all the moderate points as well. He was utterly amazing. As someone I didn't necessarily support in the primary, he sold me in the general election. I'm going to vote for him, no question about it."
Democratic National Convention
Copyright 2018 The Lawrence Journal-World. All rights reserved. This material may not be published, broadcast, rewritten or redistributed. We strive to uphold our values for every story published.