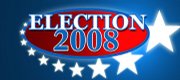 In-depth coverage of the candidates and the issues, all leading up to the Aug. 5 primary and the Nov. 4 general election.
A challenger wants to debate about the number of debates in a U.S. Senate campaign.
Democratic challenger Jim Slattery said Monday that Republican Sen. Pat Roberts needed to agree to four more debates - one in each congressional district.
Roberts, who is seeking his third term, announced in July that he would appear at a televised debate Sept. 6 at the Kansas State Fair in Hutchinson. Other debates are set for Oct. 14 in Wichita and Oct. 15 in Overland Park.
But Slattery appeared outside Roberts' Wichita district office Monday pitching four televised debates about issues in Dodge City, Topeka, Kansas City, Kan., and Wichita.
"It's time Roberts stepped out from behind his slick television advertisements and engaged in real and thoughtful debates about the issues important to Kansans and the future of our country," Slattery said.
Slattery said Roberts has only agreed to one debate - at the state fair - that will be televised and open to the public.
The Roberts campaign said he has agreed to the same number of debates as in the presidential campaign and that the planned debates will get extensive media and public attention.
"It's odd that a candidate who refused to debate his primary opponent even once would now say three debates are not enough. Senator Roberts looks forward to discussing the issues affecting Kansans," said Molly Haase, a Roberts campaign spokeswoman.
Meanwhile, two campaigns for a U.S. House seat appear close on agreeing to at least four debates.
Voters in eastern Kansas will get plenty of chances to compare 2nd District incumbent Rep. Nancy Boyda and her challenger, Lynn Jenkins, the state treasurer.
Boyda, a Democrat, has proposed four town-hall-style debates in September and October.
Jenkins, a Republican, has proposed five debates beginning Sept. 27 with the AARP Candidate Debate in Pittsburg. Other proposed debates are in Leavenworth, Manhattan and two in Topeka, including one in the capital city hosted by KTKA 49 ABC News and the Journal-World.
The two campaigns continue to hammer out details. The district includes western Lawrence, western Douglas County and most of eastern Kansas, including Manhattan, Topeka and Pittsburg.
Copyright 2018 The Lawrence Journal-World. All rights reserved. This material may not be published, broadcast, rewritten or redistributed. We strive to uphold our values for every story published.