On the street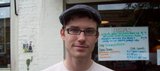 No. Poor delivery I suppose, and a generally surly demeanor as well.
What do you get when you take a vibrant downtown nightlife and add a guy with a sense of humor who likes to make people laugh?
The answer: an "accidental" comedian named Denis O'Doul, one of the many performers and local personalities helping to keep downtown Lawrence unique.
O'Doul, 49, has been entertaining downtown residents for the past few months with his brand of stories and jokes. He's now performing between music sets at local venues such as the Bottleneck, the Jazzhaus and Kansas University's radio station, KJHK. He's also been working with the local band Sleep is Like Sex on a combination music and comedy CD.
But O'Doul didn't set out to become a comedian; it just sort of happened. O'Doul says he started telling jokes downtown because he had some time on his hands.
"I was bored," O'Doul said. "I didn't mean for it to go this far."
O'Doul started approaching people on the street with his jokes, and, to his surprise, they laughed.
"I don't know why," O'Doul said. "They must like the way I tell jokes."
The key, according to O'Doul, who cites David Letterman and Conan O'Brien as comedic influences, is in the way a comedian tells a jokes, not in the jokes themselves.
"The punch line is OK," says O'Doul of his jokes, but he doesn't always make it there.
O'Doul tells a story about a night when he was downtown telling a joke to a woman who had to grab a nearby parking meter while doubling over with laughter before he could even finish the joke.
O'Doul's friend, Kevin Swain, credits O'Doul's likable personality.
"He's so engaging that people respond before the punch line," Swain said.
Swain, who calls O'Doul a "classic Irish comic storyteller," sees a unique talent in O'Doul. "He tells stories beautifully, emotively, with a comedic passion," he said.
Jason Davis, after he and his friends were entertained downtown by O'Doul recently, said he appreciated the way O'Doul tells his jokes. "His delivery is spot on," he said.
Not everybody is receptive to O'Doul's jokes. He puts his "success rate" at about 75 percent. But new Lawrence resident Crystal Rose said she was quickly put at ease by O'Doul when they met.
"He's approachable : and real transparent," said Rose, who is still trying to get a feel for downtown since recently moving to Lawrence from New Mexico.
KJHK DJ Ian Stanford met O'Doul one night on Massachusetts Street and invited him to appear on his radio show. "I'm always looking to add in new things," Stanford said. "He has really good delivery, a good voice; very charismatic."
O'Doul, who can be found most nights telling his jokes and stories to people on Massachusetts Street, says he gets some of his material from his father, who he says possesses the same talent in the delivery of jokes. The rest comes from observing the world with an eye for the humor in everyday life.
And while he will occasionally receive tips from those he tells his jokes to, O'Doul, who previously ran and owned a cleaning business, says his motivation for performing comedy is simple.
"I like to see people laugh," O'Doul said.
Copyright 2018 The Lawrence Journal-World. All rights reserved. This material may not be published, broadcast, rewritten or redistributed. We strive to uphold our values for every story published.