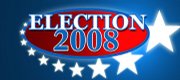 In-depth coverage of the candidates and the issues, all leading up to the Aug. 5 primary and the Nov. 4 general election.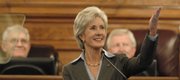 Kathleen Sebelius is the nominee for Secretary of Health and Human Services in Obama's Cabinet. She has served as Kansas' governor since 2002 and before that was insurance commissioner and a state representative.
Denver — A gay Democratic group mapping strategies to influence the Democratic National Convention will hear from a politician known for securing gay rights in solid GOP country.
Kansas Governor Kathleen Sebelius plans to address the Stonewall Democrats in Denver on Saturday. Last year, the Democratic governor signed an executive order adding sexual orientation to state nondiscrimination policies.
Stonewall Democrats say federal nondiscrimination laws should be a top priority for Democrats this year. They concede their party is unlikely to talk much about gay marriage during the presidential campaign. Nominee-in-waiting Barack Obama has said he supports civil unions but not gay marriage.
Democrats have a record number of openly gay, lesbian and transgender delegates this year at about 6 percent. Massachusetts Governor Deval Patrick addresses the Stonewall Democrats Sunday.
Copyright 2017 The Associated Press. All rights reserved. This material may not be published, broadcast, rewritten or redistributed. We strive to uphold our values for every story published.