Photo Gallery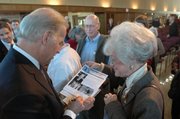 Joe Biden in Lawrence
U.S. Senator Joe Biden (D-Del.) spoke at the Dole Institute's "Contender Series" Friday, October 28, 2005 on the University of Kansas Campus in Lawrence, Kan.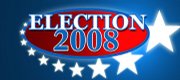 In-depth coverage of the candidates and the issues, all leading up to the Aug. 5 primary and the Nov. 4 general election.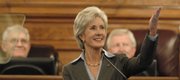 Kathleen Sebelius is the nominee for Secretary of Health and Human Services in Obama's Cabinet. She has served as Kansas' governor since 2002 and before that was insurance commissioner and a state representative.
Topeka — Gov. Kathleen Sebelius on Saturday voiced support for U.S. Sen. Barack Obama's pick of U.S. Sen. Joe Biden for vice president, and then headed to Denver to help launch the new ticket and start the Democratic National Convention.
In a prepared statement, Sebelius, who had been a contender for the No. 2 spot, said Biden's experience in foreign policy was "an asset in these complicated times."
She added, "He will be a great partner for Barack Obama in bringing about the change so desperately needed in our country, and restoring to America our sense of optimism and hope for a brighter future."
After a short speech in Denver, surrounded by well-wishers but only a couple of reporters, Sebelius smiled wide when asked whether she felt a little relieved the vice presidential speculation was over.
"It's a little easier to get out the door, yes," she said. "You don't have people saying, 'Where are you going? What are you doing?'"
Republican Party officials at the national and state level criticized the pick of Biden. "This is a clear indication that Obama is not comfortable with his campaign of 'change' when you bring a senator on board that has been there since 1972," said Kansas Republican Party executive director Christian Morgan.
Sebelius was considered among the final four candidates for vice president because of her experience as governor and ability to win Republican and independent support.
But Obama went with a Senate veteran and chairman of the Senate Foreign Relations Committee who will be seen by some as providing valuable experience to ticket. The Delaware senator's working-class, Catholic roots were also expected to help Obama appeal to middle-class voters in key battleground states.
Sebelius undoubtedly will maintain a high profile in the presidential campaign and said she expects to travel on Obama's behalf. She is co-chair of the Democratic National Convention that starts Monday and will be one of the prime-time speakers at the event Tuesday evening. Her speech is expected to last about six minutes.
"A lot of us are going to focus on the fact that the country is facing some real challenges," Sebelius said when talking to reporters Friday before the VP announcement. "Families around this state and states across the country are struggling to pay for gas and pay their bills, and we think that Barack Obama is exactly the leader we need to get this country back on track."
Sebelius came out in support of Obama earlier this year, and the two seemed to share a close working relationship and interest in policy issues. Obama frequently praised the two-term governor's ability to reach out across party lines and win compromises.
Asked if an Obama victory could translate into a future administration job, Sebelius said, "That's a long way down the line. Who knows? I may have a job announced in the near future. You can't tell."
Sebelius' final term as governor runs out in 2010, and some have speculated that she will run for the Senate that year or take a job in an Obama administration if he should win.
For now, she said, her aim is to get Obama elected.
"I think he is the right leader for the right time," Sebelius said. "And I'm going to do everything I can to help him get elected president of the United States."
Copyright 2018 The Lawrence Journal-World. All rights reserved. This material may not be published, broadcast, rewritten or redistributed. We strive to uphold our values for every story published.