Photo Gallery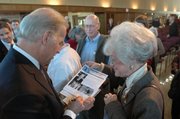 Joe Biden in Lawrence
U.S. Senator Joe Biden (D-Del.) spoke at the Dole Institute's "Contender Series" Friday, October 28, 2005 on the University of Kansas Campus in Lawrence, Kan.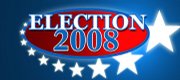 In-depth coverage of the candidates and the issues, all leading up to the Aug. 5 primary and the Nov. 4 general election.
Barack Obama told everyone he wanted a running mate who will challenge his thinking, and now he's got one. Joe Biden's tendency to speak his own mind - and speak and speak - is entwined in his DNA.
The loquacious Delaware senator brings more than verbiage to Obama's side. Biden is a foreign policy heavyweight with a decade longer in the Senate than the seasoned Republican presidential candidate, John McCain. That's almost three more decades of experience than his new boss.
In Washington, Biden, 65, is known as a collegial figure even when he's competitive - one who can spin flowery praise one moment and biting fulmination the next.
His second presidential campaign faltered early on, just one of the Democrats shunted to the sidelines as the bracing contest between Obama and Hillary Rodham Clinton sucked the air out of the rest of the field.
The chairman of the Senate Foreign Relations Committee, Biden is one of the most influential foreign policy voices in Congress. An internationalist and strong supporter of the United Nations, he is a leading critic of what he sees as the vague, unilateralist approach of President Bush.
Biden voted in 2002 to authorize the Iraq invasion, which Obama opposed from the start. Since then, he's become a firm critic of the conflict and pushed through a resolution last year declaring that Bush's troop increase - now considered a military success - was "not in the national interest."
One of the youngest politicians ever elected to the Senate - he was 29 - Biden entered the 1988 Democratic presidential primary promising to "rekindle the fire of idealism in our society." He reluctantly quit the race three months later after he was caught lifting lines from a speech by a British Labour Party leader.
In his latest effort, Biden proved to be a cheerful campaigner who mixed easily with voters, got along with rivals and displayed a self-deprecating sense of humor that leavened debates and speeches. When he was asked in one debate whether he's much too wordy, he drew laughs with a one-word answer, "No."
Obama jumped in to defend him on another occasion when he was asked if he had a problem with minorities.
The question was rooted in Biden's occasional gaffes. He had apologized earlier for describing Obama as "articulate" and "clean" in one unguarded episode that was taken by some to have a racial overtone. And he'd had to defend his remark that "you cannot go to a 7-Eleven or a Dunkin' Donuts unless you have a slight Indian accent."
Biden confronted tragedy five weeks after his first election. In 1972, his first wife, Neilia, and 13-month-old daughter, Naomi, were killed when a tractor-trailer broad-sided her station wagon as she drove home with a family Christmas tree. His sons Beau and Hunt were badly hurt.
He was sworn in from the hospital bedside of one his sons and still won't work on Dec. 18, the date of the accident.
In 1977, Biden married Jill Tracy Jacobs. They have a daughter, Ashley. Both of his sons are lawyers, and the elder son, Beau, was elected state attorney general of Delaware in November.
Biden himself had a close brush with death in February 1988, when he was hospitalized for two brain aneurysms. It was seven months before he could return to the Senate.
Copyright 2018 The Associated Press. All rights reserved. This material may not be published, broadcast, rewritten or redistributed. We strive to uphold our values for every story published.