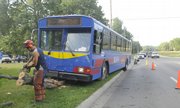 A school bus, a Kansas University transit bus and a car were involved in a crash Friday morning at 21st Street and Naismith Drive.
The 17-year-old driver of a 2001 Infiniti didn't obey a stop sign and the car was hit by a KU on Wheels bus, police said. The impact then spun the girl's car into a public school bus. The First Student bus serves South Junior High and Lawrence High students, said Julie Boyle, a spokeswoman for Lawrence public schools.
No passengers were traveling on either bus, and no one was injured in the crash, police said. The wreck happened about 7:45 a.m.
Both buses were towed from the intersection and the public school bus received minor damage, police said.
The driver of the car was cited for failure to obey a stop sign, police said.
Copyright 2018 The Lawrence Journal-World. All rights reserved. This material may not be published, broadcast, rewritten or redistributed. We strive to uphold our values for every story published.