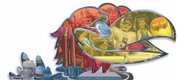 From artists to inventors, Kansas University is home to all kinds of people. In the past year, the university has opened new buildings and hosted world-renowned speakers. Come inside to learn more about the university on top of Mount Oread
Kansas University dropped two spots to 40th in the 2009 public university rankings by U.S. News & World Report.
The university fell four spots in the national university rankings, which include private universities, to a four-way tie for No. 89. The fall comes after two years of upward movement.
KU praised its position as a top 50 public university among the 164 public institutions in this year's rankings.
"KU continues to work for Kansas," university spokeswoman Jill Jess said. "One way we do that is through outstanding academics."
Jess called this year's dip "just statistics."
The University of Texas was the highest ranked Big 12 school at No. 47 overall. Texas A&M; came in at No. 64, Baylor at No. 76 and the University of Colorado at No. 77.
This year's rankings, available online today and in print Monday, include new features, including "Up and Comers," which identifies colleges that could make appearances in future rankings.
Overall, Harvard University claimed No. 1 after Princeton University spent eight years in the top spot. Princeton followed at No. 2 and Yale University at No. 3. The Massachusetts Institute of Technology and Stanford University tied for No. 4.
The formula for the rankings includes graduation and retention rates, faculty and financial resources and the percentage of alumni donating money to their alma mater. The biggest single variable is a peer institution reputation assessment.
Still a bargain
Kansas University is "one of the premier college bargains" in the U.S., according to the Fiske Guide to Colleges 2009.
The college guide, which has ranked colleges for the past two decades, gave KU four stars for academics, social life and quality of life. It also praised the university for its honors program and its campus landscaping.
Programs such as architecture and urban planning, business, economics, engineering, environmental studies, nursing, pharmacy, social welfare, pre-med studies, Spanish and Portuguese, and journalism were also praised.
"It's gratifying to again receive such high marks in this respected guide," said KU Chancellor Robert Hemenway in a statement. "Our students, faculty and staff deserve the credit for making KU a great place to be."
KU is the only Kansas university ranked in this year's guide.
Copyright 2018 The Lawrence Journal-World. All rights reserved. This material may not be published, broadcast, rewritten or redistributed. We strive to uphold our values for every story published.