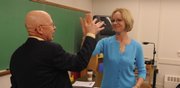 How often is a speech instructor at a loss for words?
Not very often, Mary Banwart said, but being one of this year's William T. Kemper fellows was enough to throw the Kansas University communication studies professor off her stride for a moment.
"I'm speechless," she said. "But not for long."
KU annually gives out 20 Kemper Fellowships for Teaching Excellence to professors on the Lawrence and KU Medical Center campuses.
The announcement of Banwart's fellowship, presented to her in front of her surprised class Thursday morning, was met with a standing ovation from her students. Her award kicked off this year's set of fellowships, which will be given out over the next week. Four other professors received fellowships Thursday.
Banwart said it was an honor to be chosen.
"I know what our list is of former Kemper award winners," Banwart said. "Many of them are mentors and role models for me. I'm really honored to have my name on that list."
Chancellor Robert Hemenway praised Banwart's teaching talents.
"She's an outstanding teacher, as you can see from her class's response," he said. "Getting a standing ovation on your first day of class is a pretty strong endorsement."
Recipients - chosen by a committee of faculty and students - receive a $5,000 check jointly funded by the KU Endowment Association and Commerce Bank in Lawrence.
Robert Rowland, chairman of the communication studies department, said this was the 12th Kemper fellowship a member of his department had received since KU began the award program 13 years ago.
Other fellows announced Thursday were: Elizabeth Asiedu, associate professor of economics and associate chair and director of graduate studies for the department of economics; Marta Caminero-Santangelo, associate professor of English; Paul Hanson, professor of chemistry; and Shannon O'Lear, associate professor of geography and environmental studies.
Copyright 2018 The Lawrence Journal-World. All rights reserved. This material may not be published, broadcast, rewritten or redistributed. We strive to uphold our values for every story published.