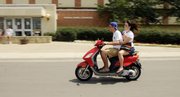 Alex Rausch's ride oozes old-school European cachet as he arrives on campus, and for that he can thank an arbiter of the decidedly old-fashioned.
That would be his late grandfather, from whom the Kansas University sophomore inherited a 1982 Motron mo-ped.
He hasn't looked back since.
"Back when I was in high school and I was riding it, people were making fun of me," said Rausch, who attended Mill Valley High School in Shawnee. "Now, I (recently) had a guy come up to me and say, 'Duuuude! That's an awesome bike! I had one of those, but it got stolen!"
The idea that Rausch's mo-ped - the one that lacks a functioning speedometer, turn signals, battery, ignition lock or even an ignition switch - is somehow hot these days isn't all that difficult to understand.
Popularity of mo-peds, scooters and other motorized two-wheelers are picking up speed, as trend-setting students look for ways to save cash, get to class on time and look good while doing it.
KU is on track to sell a record number of mo-ped permits this year. By Tuesday the Department of Parking and Transit had sold out its online allotment of 93 mo-ped permits, a total that surpassed the entire 90 sold for all of the 2005-2006 academic year. Last year the department sold 122.
Helping to drive demand: Rising permit fees for cars.
"People are making some different decisions about how they're going to get here this year, and the difference is the dollars," said Donna Hultine, director of parking and transit.
Hultine, who's been working in campus parking for more than 20 years, said that scooters had become more fuel-efficient, reliable and - yes - hip. Such alternative transportation is going mainstream.
"You can go to Target and get a scooter," she said. "If I wasn't so chicken, I'd look into buying one."
Rausch remains pleased to have inherited his. The Italian two-wheeler carries a tax value of a mere $20, and the one-gallon gasoline tank includes a small reserve that ensures plenty of worry-free trips to and from campus, with parking close to buildings that drivers of cars can only dream about.
"I don't care what anybody says," Rausch said. "If they want to make fun of it, they're just jealous. This is my ride."
Scooting across campus
KU's Department of Parking & Transit and its director, Donna Hultine, expect to sell more mo-ped permits once more become available Sept. 5, as students face a host of contributing economic factors:
¢ Yellow parking zones, which generally are reserved for students' cars and are on the fringes of campus, have about 300 fewer spaces than a year ago, because of construction of new football practice fields near Memorial Stadium.
¢ Fees for yellow permits - the permits sold to students - are $200 this year, up 25 percent from a year ago.
¢ Mo-ped permits cost all of $25 a year and allow users to park at any bike rack on campus, including those along Jayhawk Boulevard - a thoroughfare normally reserved for the highest-ranking and longest-tenured university professors, officials and others.
Copyright 2018 The Lawrence Journal-World. All rights reserved. This material may not be published, broadcast, rewritten or redistributed. We strive to uphold our values for every story published.