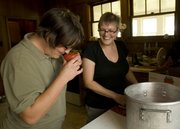 Opposite-sex couples also use registry
Religious issues largely have been credited or blamed - depending on your viewpoint - for the state's ban on same-sex marriages and the creation of Lawrence's domestic partnership registry.
But it also is religious issues that have caused some opposite-sex couples - individuals who have the legal right to marry - to sign up for the city's domestic partnership registry.
That's the case for Peter Picucci and Star Straf. The Lawrence residents signed up for the registry last year because Picucci is Catholic and Straf is not.
"To him, marriage is a full ceremony including a Mass, and I'm not Catholic," Straf said. "That is a sacrament in his religion, and I respect that."
Like most couples interviewed, the significance of the domestic partnership registry has been more symbolic than anything else.
"On a personal level it has been meaningful," Picucci said. "I don't know that it has been meaningful in any legal way."
But the recognition does come in handy in social settings.
"We now have an answer to the question of are you married," Picucci said. "Saying we're domestic partners carries a lot more weight than to say we've just been dating for 13 years."
It's a country romance between Jess and Jen.
Jess in Carhartt pants worn from days of chores and Douglas County soil. Jen in jeans and bare feet sitting cross-legged on a couch in front of the old farmhouse's curtainless window.
Over a glass of iced tea that sweats from a setting summer sun, they talk about how it began. They met at age 20 at KU. Lived in the "city," with Jen working her way up the bureaucratic ladder at the university, and Jess just working - oftentimes still putting in 50 hours a week.
Then, as is inevitable in these stories, the call of the country fills the air. Jess is a fourth-generation Lawrence resident, with family roots deep in Douglas County agriculture. The family farmhouse - the one Jess played in as a kid - was waiting for an occupant.
So, just two months ago, they left their home on Rhode Island Street and returned to the farm. Well, Jess returned and Jen followed.
Now they fight to keep coyotes away from the goat herd, procrastinate about canning tomatoes from their 110 plants, and have just plain surrendered their squash to the bugs this season.
For the couple of 15 years, it is a mature, but not mundane, relationship.
"I guess we're the stereotypical Kansans," Jen says with a laugh. "Returning to the farm in our mid-30s to pursue an agrarian life."
She says it with a laugh because that's not supposed to be the stereotype.
Jess Pierson - short for Jessica - and Jen Humphrey are lesbians. They are supposed to fulfill all sorts of stereotypes, but living a life suited for the cover of Midwest Magazine isn't one of them.
"Most people's impression of lesbians are formed from porn or their church," Jen said. "Sometimes both."
¢¢¢
It's been one year ago this month that Lawrence leaders took what many in the gay and lesbian community believed was the most significant step yet in Kansas to change impression.
Lawrence city commissioners created the state's first domestic partnership registry. Lawrence residents since Aug. 1 of last year have been able to register their unmarried relationships with the city clerk's office. They submit some basic biographical information, attest to being in a monogamous relationship, affirm that they share a roof and expenses, and, of course, pay the city a $75 fee. The city, in return, provides them with a pair of laminated cards saying they are a member of a domestic partnership.
"It's really kind of cheesy," Humphrey said of the card. "But I appreciate they acknowledge it. And it is a nice conversation piece."
It's also the closest that a Kansas homosexual couple will come to receiving legal recognition of their relationship. Kansas is one of many states that have a constitutional ban on gay marriage.
But saying a legally recognized domestic partnership is a lot like marriage would be a bit like saying that Clinton Lake is a lot like the Pacific Ocean. They both have water, but one offers considerably more latitude.
The city's domestic partnership doesn't convey any legal rights that come with marriage. Legal issues of property, insurance, inheritance and a host of other issues aren't changed simply by filling out the city form.
But a year ago, supporters of the registry argued that it could play a key role in providing health insurance to some members of unmarried relationships. Some companies will offer health benefits to a domestic partner of an employee - just as they will to a spouse. But some companies, advocates said, require legal proof that the individual is truly part of a relationship. The city's registry was meant to provide that proof.
Whether the registry has played a helpful role with that issue really isn't known. Frank Reeb, the city clerk who oversees the registry, said no employer has ever asked to view the registry. And a state law still exists that seems to prohibit insurance companies from writing small-group health insurance policies that cover domestic partners, said Bob Hanson, a spokesman for Kansas Insurance Commissioner Sandy Praeger.
What is known is that 37 couples signed up for the registry during its first year, with 18 of them signing up in the first month. Just based off of the names on the list, 23 are lesbian couples, six are opposite-sex couples, five are gay male couples, and it couldn't be determined by names alone what category the other three fell into.
But it does seem that the registry is fulfilling a symbolic purpose, which supporters had said was another important reason to create the registry.
Jen and Jess were among the more than one dozen couples who signed up on the first day, amid fanfare and media attention at City Hall.
"I wanted to be there to see what it would be like," Pierson said. "I didn't think it would change anything, but if we were going to sign up, I wanted to be where the action was at. Part of the reason to do it is to be public about it."
¢¢¢
But not everyone believes that is the only reason to do it.
Rep. Lance Kinzer, R-Olathe, has been the most outspoken Statehouse critic of Lawrence's registry. He believes the registry is about more than symbolism. He believes it is about building a foundation for a legal challenge to the state's ban on gay marriage. He said allowing individual cities to pass laws on domestic relations is troubling.
"It allows for a very important part of the law to develop in a hodgepodge pattern across the state," Kinzer said. "It could create a lot of confusion and open the door for a lot of lawsuits.
"We don't, for example, have a different law for divorce in Hays than we do in Olathe, and there are good reasons for that."
Kinzer said supporters of domestic partnership registries should fight to get a statewide registry. Almost everyone acknowledges that would be a tough sell in the Kansas Legislature.
Kinzer said he certainly wouldn't support such a registry because he has moral objections to same-sex marriages. He believes the majority of residents of the state do, too. The constitutional ban on same-sex marriages passed overwhelmingly in 2005, with Douglas County being the only county to reject it.
"I think the voters of Kansas have clearly spoken on this issue," Kinzer said. "The Legislature should be diligent in making sure their intent is upheld."
Thus far, legislators haven't had to be too diligent. Lawrence remains the only city in the state to have a domestic partnership registry. And Reeb - the city clerk - said his office hadn't received any inquiries from other cities studying the issue.
¢¢¢
An ever-moving wind chime and an equally energetic trio of barnyard kittens mark the height of commotion on Jen and Jess' piece of rural Douglas County.
That fits their personalities, which they both described as laid-back. Maybe that's why Humphrey more often than not doesn't speak up, even when she hears views like Kinzer's that she disagrees with.
She even remembers once - the one time she said she felt uncomfortable in Lawrence - when she was sitting in a dentist chair listening to two dental assistants criticize the lifestyle of lesbian singer Melissa Etheridge. Humphrey had a mouthful of dental tools, so she couldn't say anything right away. But even when she did have the chance, she ended up leaving without commenting.
"I don't want to be that person anymore," Humphrey said. "I don't want to seem defensive. I would rather just have people change their opinions by getting to know me and Jess."
Pierson approaches it much the same way. She said she reacted to the passage of the state's ban on same-sex marriages with a sigh. She looks for her victories on a smaller scale. The one that has buoyed her lately is that her 71-year-old father no longer has difficulty introducing Jen as his daughter's partner.
Humphrey did end up changing dentists over the Etheridge incident. She thought about sending the dental office employees a letter telling them why, but she never did.
She's not sure why she didn't. Maybe it is just a mellowness that has come with age. Maybe it is a cynicism that has come with age. Maybe it simply is a function of the time and energy it would take.
After all, there are tomatoes to can.
Copyright 2018 The Lawrence Journal-World. All rights reserved. This material may not be published, broadcast, rewritten or redistributed. We strive to uphold our values for every story published.