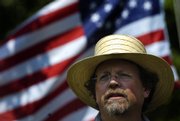 The history lesson was earsplitting.
Civil War re-enacters recalled past battles of Kansas on Saturday with the firing of a 6-pounder replica field gun from the lawn at South Park.
"This is what you would have seen early on in Kansas' history," re-enacter Kent Johnson said as the smoke lifted following the blast.
Members of the 3rd Kansas Light Artillery re-enacting group gathered around the gun Saturday. They gave a lesson to onlookers on the process of loading and firing the cannon.
"It's a piece of living history," re-enacter Loren Feldkamp said. "A lot of people see these things fired, but they have no idea how you break it down and how everybody works together as a team to fire one of these."
The group also displayed photographs, scrapbooks, spent bullets, canteens and uniforms.
The encampment was part of Civil War on the Western Frontier, a series that runs through Thursday and includes tours, theatrical acts, films and activities for kids.
"A lot of today's high school students don't even know the years the Civil War was fought," re-enacter Alan Van Loenen said. "So we try to add to the education of American history."
Events continue Sunday with a 1 p.m. tour of the Territorial Capital/Lane Museum in Lecompton, and "An Afternoon with John Brown" at 3 p.m. at the Lawrence Public Library, 707 Vt.
Copyright 2018 The Lawrence Journal-World. All rights reserved. This material may not be published, broadcast, rewritten or redistributed. We strive to uphold our values for every story published.