Photo Gallery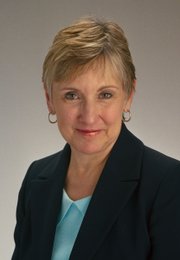 Kansas University's deans
Kansas University's 13 schools are represented by 12 deans.
Here are a look at the academic leaders and what their plans are for the upcoming year.
School of Allied Health/School of Nursing
Dean: Karen Miller
Year appointed: 1998
Upcoming Issues: Miller has pointed to the increasing work force shortages in the nursing and allied health fields as areas needing particular attention in the upcoming academic year. She is also pushing for more recruitment of students, as well as courting increased research funding for her schools.
School of Architecture and Urban Planning
Dean: John Gaunt
Year appointed: 1994
Upcoming issues: Gaunt said the upcoming year is looking to be more rebuilding than anything else. With the school continuing to find its footing after becoming a graduate student-only program, Gaunt said faculty members were continuing to rework curriculum. The school will also have a new design firm based in Kansas City.
School of Business
Dean: William L. Fuerst
Year appointed: 2000
Upcoming issues: Students at the School of Business are slated to participate in a worldwide Entrepreneur Week in November. Masters students are also expected travel to New York, Chicago and Dallas to build up contacts with corporate leaders. The school is also continuing to raise money for a new building.
College of Liberal Arts and Sciences
Dean: Joseph Steinmetz
Year appointed: 2006
Upcoming issues: Steinmetz said the college has two new associate deans starting this year. After Paul D'Anieri left to become dean of LIberal Arts and Sciences at the University of Florida and Danny Anderson was moved up to Vice Provost for Academic Affairs, Steinmetz said the college slightly tweaked its organization. Bill Tsutsui became the new associate dean for the Division of International Studies, while Ann Cudd became the new associate dean of Humanities. The college will also launch two new teaching centers, including the Center of Global and International Studies and the Center for the Analysis of Data.
School of Education
Dean: Rick Ginsberg
Year appointed: 2005
Upcoming issues: Ginsberg said a large issue, not just facing the School of Education but all other areas of the university, was budgeting in an increasing unstable economy. The school is also working on developing several programs in an effort to combat the continuing teacher shortage in Kansas.
School of Engineering
Dean: Stuart R. Bell
Year Appointed: 2002
Upcoming Issues: Bell said it looks like the School of Engineering is in a good position heading into the 2008-2009 academic year. The biggest issue is recruiting enough students into KU to feed a growing industry need for people engineering degrees, he said.
School of Fine Arts
Dean: John Gronbeck-Tedesco (interim)
Year Appointed: 2008
Upcoming Issues: Finding a permanent dean for the School of Fine Arts tops the school's issues for the year. Gronbeck-Tedesco said he plans on working with students and faculty to determine what they feel is the best future. He also hopes to ease the transition as the school searches for a permanent dean.
School of Journalism
Dean: Ann Brill
Year Appointed: 2004
Upcoming Issues: Brill said probably the biggest issue facing the School of Journalism would be convincing a new generation of potential journalists that there are still viable careers in the field. With large-scale layoffs across the country, she said the school would have to spearhead new areas of journalism.
School of Law
Dean: Gail Agrawal
Year Appointed: 2006
Upcoming Issues: Agrawal said the School of Law has several speakers in the upcoming year to look forward to, including an expert on bio-law and a diplomats forum that will encourage students to "see ourselves as others see us." Agrawal said the school is also working on preparing students for an increasingly tough job market.
School of Medicine-Wichita
Dean: S. Edward Dismuke
Year Appointed: 2001
Upcoming Issues: The School of Medicine-Wichita's primary concern will be securing funding for construction of the pharmacy school on the Wichita campus. Dismuke is also anticipating increased involvement with KU Cancer Center's goal of reaching a National Cancer Institute designation.
School of Pharmacy
Dean: Kenneth L. Audus
Year Appointed: 2004
Upcoming Issues: The School of Pharmacy recently received state funding to widely expand its services and class size. Audus said a large chunk of the administrations time would be devoured by planning and construction. The school hopes to be accepting larger class sizes in time for the Fall 2010 semester.
School of Social Welfare
Dean: Mary Ellen Kondrat
Year Appointed: 2006
Upcoming Issues: Kondrat said other than the standard hiring of empty positions, no major projects or issues were on the radar for the School of Social Welfare. The school is currently developing a program through the school that they hope will reach into western Kansas and east toward Kansas City, she said.
Copyright 2018 The Lawrence Journal-World. All rights reserved. This material may not be published, broadcast, rewritten or redistributed. We strive to uphold our values for every story published.