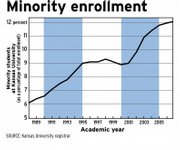 When Stephanie Gomez applied to Kansas University, it was an undertaking she did largely by herself.
As a Hispanic, first-generation college student, Gomez couldn't rely on her parents to show her the ropes for filling out financial forms or how to go about obtaining scholarships.
"In all honesty, my parents had no idea what to expect and what to do when it came to enrollment," Gomez said. "It was such an unknown territory."
With one more semester left before finishing up a degree in human biology, the Newton native now is serving on a council that is looking for ways to address some of the issues she faced.
Formed this spring, the Latino Vision Council is hoping to make KU more accessible to the state's ever increasing number of Latino students and their families. The group - composed largely of Hispanic public school and state officials, community and religious leaders and social service organizations - is looking at creating more KU promotional materials in Spanish, establishing a Spanish hot line for admissions and providing a summer camp for Latino youths.
Gomez isn't alone. Danny Anderson, vice provost for academic affairs, said that many Latinos are the first in their family to attend college.
"We want to think about how we can work with communities to make sure parents are looking at ways to encourage them," Anderson said.
A Latino wave
In the not-so-distant future, the look of incoming freshman classes at Kansas University and across the Midwest is expected to change.
Census data shows that the number of overall high school students in Kansas will drop. At the same time, the number of Hispanic graduates is expected to more than double. By the year 2022, it is projected that Kansas public high schools will have 4,227 Hispanic graduates.
"As the student population changes, KU needs to be changing and responding in ways to meet their needs," Anderson said.
Lisa Pinamonti Kress, director of admissions and scholarships, said KU is looking to add to its recruiting arsenal publications designed for parents who didn't go to college. Officials are also working to translate recruiting brochures and part of KU's Web site is already translated in Spanish.
For the second year, KU is going to advertise in magazines that are targeted specifically to students of color and continue with their multicultural roadshows in Kansas City, Topeka and Wichita.
"That is what we are doing this summer, looking at applications, admittance and enrollment and determining where we need to go in the future," Kress said.
Making up 12.1 percent of the student body, overall minority enrollment was at an all-time high in the fall of 2007. It's a number that has climbed steadily for the past decade.
However, the number and percentage of minorities in the incoming freshman class dropped slightly. There were 509 minority students, who were 12.5 percent of all freshmen. The previous year, there were 528 minority students, who made up 12.7 percent of the freshman class.
Kress said small decreases - such as a difference of 20 students - are hard to explain.
"We continue to evaluate each year. Next year we are looking to expand our recruitment efforts," Kress said.
Connecting with families
Building relationships with Hispanic families long before their children are shipped off to KU will be key in coming years, Anderson said. The university also wants stronger ties in the communities where they live.
In many Hispanic countries, Anderson said students traditionally attend universities in their hometown and often live with their parents until marriage.
"This U.S. model of a child becoming independent when they graduate from high school and leaving home is not part of their cultural expectations," Anderson said.
To help garner families' trust, Anderson said the university wants to start connecting with students and their parents early. Among the ideas are educating children in grade school about the importance of a college education, offering leadership academies at KU and making sure the school clearly explains to parents what college entails.
Gomez said having more Spanish-speaking faculty and publications is important. It would be particularly helpful for high school students in southwest Kansas where many Hispanics have come to work in the meat-packing industry and now make up the majority of residents in some communities.
"I was overwhelmed as it was, and I didn't have a problem with the language barrier," Gomez said. "With students who are trying to process the information that they are getting and at the same time repeat it to their parents, a lot of things are missed or not conveyed."
However, Gomez believes the biggest boost to recruiting new students will be graduates such as herself who go home and encourage others to follow in their footsteps.
"I really want them to know that there are people out there making a big effort to try to reach out to students, families and parents, who really want to help them from the bottom of their heart," Gomez said. "And so many people are passionate about (high school students) going to college, getting an education and knowing they don't have to work at a meat-packing plants for the rest of their lives."
Copyright 2018 The Lawrence Journal-World. All rights reserved. This material may not be published, broadcast, rewritten or redistributed. We strive to uphold our values for every story published.