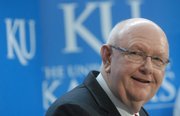 KU's 16th chancellor, Robert Hemenway, announced Dec. 8, 2008, that he would retire at the end of the current academic year. He's been chancellor for 14 years.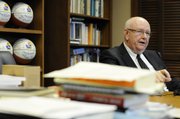 For 22 years, Jon Wefald helmed Kansas State University as its president.
And when he announced his retirement in May, effective at the end of the 2008-2009 school year, the longest-running tenure as CEO of a Kansas school comes to an end.
Meanwhile, Kansas University Chancellor Robert Hemenway is heading into his 14th year in Lawrence, the second-longest run in Kansas and third in the Big 12 conference. Other than Wefald, only the University of Oklahoma has an administrator with a longer tenure, with president David L. Boren starting in 1994.
Don't count on Hemenway calling it quits anytime soon, though.
"I really don't think about it that much," he said. "We've got so many things going on."
Hemenway cited the large amounts of construction going on around campus as a sign of a successful school.
"You can look around the campus and see all the construction going on as a pretty good metaphor for all that's going on in KU," he said.
Less visible, yet equally important, according to Hemenway, is the university's proposed strategic plan. In the plan, Hemenway said, was the potential blueprint for what it would take for the university to improve even further.
"I think it will be a very effective way to challenge the campus to think seriously about what it means to be a graduate of the University of Kansas," he said.
That isn't to say the university doesn't have several large hurdles to overcome in the upcoming years. With wages dropping and the economy teetering on unsure ground, coupled with rapidly rising gas prices, Hemenway said it was likely KU would need to start tightening its belt to keep a steady budget.
Lynn Bretz, director of communications for KU, echoed Hemenway.
"It's something everyone in the state is going to have to deal with," she said.
Bretz said she was hoping the state wouldn't hand down a budget cut in the future, because while the university knows how to roll with those kinds of punches, it wasn't a pleasant experience when that has happened in the past.
And Hemenway said that he felt as long as he was considered an effective chancellor he would continue on a steady path.
"You don't judge yourself against the longevity of the other universities," he said. "You judge yourself if you're being effective and successful as a chancellor."
Before coming to KU, Hemenway spent six years as the chancellor of the University of Kentucky-Lexington campus.
Hemenway said his childhood in Nebraska allowed him to receive a close look at KU as he grew up.
"KU is a wonderful place," he said. "I've had the opportunity, because I grew up in Nebraska, to observe what a great university KU was. When they called me and said they were interested in having me interview for the job at KU, I felt really good about the possibility, and the interview went well. The rest is history."
In a May presentation, Hemenway cited the school's 55 percent minority graduation rate, as well as its pedigree with faculty awards and memberships.
With all that, Hemenway said he intend to stick around for a while.
"I intend to stay as long as I'm effective, as long as I'm successful, as long as I'm active," he said. "The Board of Regents are my boss. They're the people who decide if I'm being successful, active and effective. Any plans I would have would have to fit with the Board of Regents' plans."
Jill Docking, vice chair of the Board of Regents, said she didn't foresee any conflicts with Hemenway in the future.
"He's always worked very well with the board," she said. "There is a very good relationship."
Copyright 2018 The Lawrence Journal-World. All rights reserved. This material may not be published, broadcast, rewritten or redistributed. We strive to uphold our values for every story published.