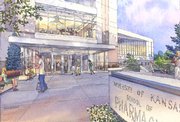 Topeka — An aging population and advances in medicine have triggered a need for more pharmacists throughout Kansas and the U.S.
"The prescription numbers keep going up," said Ken Audus, dean of the Kansas University School of Pharmacy. "Someone has to fill those."
To help meet that demand, KU and state leaders have agreed that a major expansion of the pharmacy school is needed to produce more pharmacists.
The Legislature and Gov. Kathleen Sebelius approved $50 million to construct a new building on the West Campus and add a floor to an existing building in Wichita.
Audus said many states, including Kansas, will be looking at shortages in pharmacists in the coming years. Nationally, it is expected there will be a shortage of 150,000 pharmacists by 2020.
"The shortages become more and more critical over the next few years," he said.
In 2006, Kansas pharmacists filled 36 million prescriptions worth more than $2 billion, up from 33 million, worth $1.7 billion in 2005.
KU hopes to break ground on the projects in early 2009.
The school's plan is to nearly double - from 105 to 190 - the number of pharmacy students admitted to KU each year. Kansas is one of the few remaining states that has only one school producing pharmacists, Audus said.
The addition in Wichita would be added to the university's already existing medical school there.
Copyright 2018 The Lawrence Journal-World. All rights reserved. This material may not be published, broadcast, rewritten or redistributed. We strive to uphold our values for every story published.