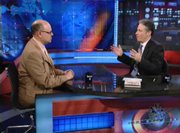 In the beginning, God created man. And man created the blog.
OK, so maybe that's not exactly how it happened, but Kansas University journalism professor David Perlmutter, 46, could tell you how it did - at least the blog part. Author of "Blogwars," which was published this year, Perlmutter has been dazzled by the blog - the online derivative of the column - since it made its first appearance in 1999.
In turn, Perlmutter has gained national attention for his scholarship on blogs, including multiple interviews - and even one this year on "The Daily Show with Jon Stewart."
The origins
In the late '90s, while studying presidential campaign Web sites, Perlmutter noticed something called the weblog. It was a static Web site that didn't provide reader feedback but was innovative because its posts were written by the average Joe. Then in 2003 - when the 2004 presidential campaign began to waddle its way into the public eye - Perlmutter watched liberal blogs sprout up like summertime tomato plants.
"Blogging has an oppositional psyche to it, so the left were feeling their opposition and wanted to say something," Perlmutter says. "It could be that when blogging gained popularity, more conservatives were in power."
For the online community, the blog is the nucleus of personal expression, a form of communication that can be used by anyone, regardless of credentials. So here were all these people - students, mothers, janitors, waiters - banding together like groups of ants using their collective strength to heave a crumb up a hill. The crumb: political change. Within a year, the blogosphere bounced onto the political map and captured Perlmutter's attention for multiple reasons.
For one, Perlmutter never believed media production and control would trickle its way down to the masses again. For the bulk of human history, the elites were the only ones who wielded information via mass communication. But the blog changed the way information was delivered and who delivered it.
"I never imagined we would or could go back to the days of individual production of mass media products," Perlmutter says, "and then came blogs, bloggers and blogging."
Perlmutter recalls that when growing up there weren't many news options. Back then, Perlmutter says, Walter Cronkite was the singular face of news television, and 5:30 p.m. was virtually the only time news aired.
A form of new media that provides instant updates, the blog is one staple of the 24 hour news cycle we know today.
"A blog is kind of like a ... neo pet (a virtual pet that needs constant special care). You have to feed it every day, or it dies," Perlmutter says. "If you actually build an audience, your audience expects you to post every day, maybe a couple times a day, maybe even many times a day."
Media consumer
Perlmutter devours news voraciously. Investing two hours a day on traditional media, he digs into the newspaper in the afternoon and watches news in the evening. But he also spends 45 minutes, usually at night, reading blogs.
In a way, the latter habit could be considered research. Author of "Blogwars," Perlmutter also keeps a blog about blogging. He tries to gobble up information from both sides of the political spectrum. He makes pit stops at popular sites like Daily Kos and MyDD, Town Hall and RedState.
"The blogging world is so interesting. Practically every week I find something new," Perlmutter says.
Another element of the blog that intrigues Perlmutter is reader feedback.
"When I was growing up, if you disagreed with something someone wrote in a column, you wrote a letter to the editor, or, if you were really aggressive, you called the columnist," Perlmutter says. "With blogging you get an instant response. You may get 100 people attacking you or praising you within 20 minutes."
Though Perlmutter rarely writes comments on blogs, he does read them.
"When everyone has access to the Web, you get some really interesting experts. Somebody writing a comment on the post about the surge in Iraq may very well be a major in the war in Iraq," Perlmutter says.
But comments aren't always informative or flattering. Things can get nasty in the digital world. In blog threads, the comment section tacked at the end of a post, people sometimes toss around words that might inspire Mom to retrieve the bar of Ivory from the bathroom.
"That's one of the reasons I don't politically blog anymore," Perlmutter says. "I'm too sensitive."
National publicity
When Perlmutter was writing "Blogwars," two popular political bloggists invited him to take over while they went on vacation. For at least one week, masquerading under a pseudonym, Perlmutter became obsessed with blog writing. When news images flashed on TV - pictures of war, bombings, court cases - he dashed to his computer, passionately tapped his opinion onto the keyboard and slapped it onto the Internet.
But when talking politics, there's only one guarantee: Argument is inevitable.
After each of Perlmutter's posts, readers clobbered him with negative comments. Some pelted him with childish insults: idiot, traitor, monster.
"I didn't like being attacked by a hundred people instantly," Perlmutter says. "It's very difficult to be attacked, and that's part of blogging."
So Perlmutter shifted into neutral territory, and now he only blogs about blogging.
So far it's worked for him. Producers from Comedy Central's "Daily Show" invited Perlmutter on air in May. His appearance impressed his fellow faculty members at the journalism school.
"David (Perlmutter) is not Johnny Carson. He's an academic, and it's almost a mismatch to put him on that kind of show. That having been said, I thought he did very, very well," said David Guth, associate dean and associate professor. "He even made a joke. It was a fabulous appearance, and I was very proud of him."
Next semester, Guth plans to use "Blogwars" as a resource for a class he's teaching about the effects social media, and blogs in particular, have on the political process.
A jack of all trades, Perlmutter is a journalist, a documentary photographer and an academic. He's been with KU for two years and now sits on the National Law Enforcement Museum Advisory Committee, writes a regular column, "P&T; Confidential," for the Chronicle of Higher Education, and edits the blog for the Robert Dole Institute of Politics.
Perlmutter has retired his blogging pseudonym, but he admires those who have the stomach for the job.
"I loved the experience of it, but the reaction to it was just a little bit too much for me," Perlmutter says. "I have great respect to people who are able to keep it up."
Copyright 2018 The Lawrence Journal-World. All rights reserved. This material may not be published, broadcast, rewritten or redistributed. We strive to uphold our values for every story published.