Photo Gallery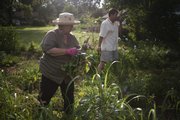 Community garden
Brooks Hanson no longer is surprised when he wakes up and sees a neighbor or two squatting in his front yard.
In fact, he welcomes them.
This spring, an informal community garden sprang up on Hanson's land in North Lawrence.
Hanson decided he had more garden than he needed. And his neighbors - many of whom belong to the Lawrence Sustainability Network and moved to North Lawrence for its dark, rich soil - didn't have enough.
So a partnership was forged.
"It would get overgrown with weeds just because there weren't enough people," said Iris Wilkinson, who lives across the alley from Hanson.
Now, about a dozen people help garden the plot.
Wilkinson gets winded when she lists what is being grown: peppers, chard, kale, purple potatoes, sweet potatoes, tomatoes, turnips, beans, corn, squash, pumpkins, basil, okra, asparagus, strawberries and more.
Single-mom Marie Wheeler said she doesn't have the time to spend "luxurious" hours in the garden. So, this summer, she planted strawberries and asparagus. And then she helped weed the community garden. In return, the harvest has been unending.
"Everybody pitches in a little and they reap so much more. That is really the idea of it," Wheeler said.
The plot of land is among the newest in Lawrence's long history of community gardening. About a half dozen community gardens are scattered throughout Lawrence. Some are more formal with waiting lists and an official plot of land for each gardener to cultivate. Others, like the one in North Lawrence, are loosely organized with the gardeners planting and harvesting where and what they like.
On one evening this summer, Hanson helped dig up some purple potatoes and then sat on the side of the garden in a lawn chair. He chatted with his neighbors while drinking a beer. Wheeler's 5-year-old son, Oscar, with hoe in hand, bounced between gardeners. Squash was picked and weeds were pulled as the sun set.
"It's my little piece of heaven," Hanson said.
Copyright 2018 The Lawrence Journal-World. All rights reserved. This material may not be published, broadcast, rewritten or redistributed. We strive to uphold our values for every story published.