On the street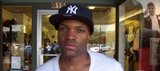 No, that's trouble. A lot of my friends have them, and they're all in debt. Every time I get a preapproved offer in the mail, I throw it away.
Keep cards on a tight leash
When college students realize they can't pay their credit card bills, it isn't necessarily because they bought a high-dollar video-game system or other big ticket item.
It's the little things that get them, said Walter Glaude, a counselor with Housing and Credit Counseling Inc. in Topeka.
Using a card to pay for pizza, beer, soft drinks and alcoholic drinks for themselves and friends is not good, he said. It all adds up and so does the interest on unpaid balances, Glaude said. Gasoline is another frequently charged expense, he said.
"If it can be consumed or digested, it shouldn't be bought with a credit card," Glaude said.
Parents should know how their children are using credit cards. Glaude said he doesn't know of any way for a parent to obtain a card that restricts certain items from being purchased. Parents can, however, monitor the purchases being made by going online, he said.
Here are other credit card usage tips:
¢ Use the card only for emergencies.
¢ Be sure payments are on time. High fees follow late payments.
¢ Know your credit limit.
¢ Do not use the card for cash advances. The interest rate for cash advances is between 20 percent and 25 percent.
- Mike Belt
Walter Glaude can tell one financial horror story after another, and many of them involve college students.
Such as the one about two college seniors he recently talked with who had accumulated debts of more than $40,000 each by using credit cards.
"They were using it to supplement their income while they were in school," Glaude said. "That's ridiculous."
Glaude is a counselor with Housing and Credit Counseling Inc. in Topeka. He talks with about 20 college students a month who are seeking help because they owe too much money. Credit cards usually are the problem.
A few students are so far in debt their only option is to file for bankruptcy protection, Glaude said. A young married couple who were just out of college had to use that option, he said. He owed $45,000; she owed $28,000.
"That's sad because they are already starting off behind," he said.
More than half of the nation's college undergraduates got their first credit card when they were 18, according to the Nellie Mae Corp., a student financial aid firm. More than 90 percent of students in their final college year have cards, and 56 percent carry four or more cards. The average amount owed by undergraduates with cards is $2,169, Nellie Mae found.
Glaude said he thinks there should be a law restricting people from getting credit cards until they are 21.
"I think it should be just like drinking," he said. "I think that you should have to be out on your own a little bit first."
Kansas University is establishing a task force to study student finance issues, including credit cards. Its first meeting is set for this month.
The task force will research and implement methods for educating students about financial skills and making them a priority, said Stephanie Covington, associate director for student financial aid who is on the task force.
"We will be looking at all of the things that are already being done on campus and researching what other universities are doing," Covington said. "Personal finance is usually one of the top reasons why a student will leave a school."
Among task force members are representatives from the offices of student financial aid, chancellor, provost, student housing and legal services. Students also will be included, as will Robert Baker, an HCCI credit counselor in Lawrence. Baker also talks to students in finance classes and seminars. He was on vacation last week and unavailable for comment.
KU's financial aid Web page, www.financialaid.ku.edu, has a "financial literacy" link with information about credit cards and their pitfalls. Counselors from the office make presentations to students about financial aid and other financial matters, including credit cards, Covington said.
"We don't want them to get into a situation where they can't buy a car or a home after they graduate," she said.
Reasonable credit card use, however, is good because it builds a student's credit rating, Covington said.
"We're not saying don't have a credit card, we're saying use it wisely," she said.
KU, in accordance with a Kansas Board of Regents policy, has restrictions on credit card solicitations. No solicitation can take place on campus during the week before and two weeks following the first day of each semester. Educational material on the use of credit cards is included in student orientation programs.
Copyright 2017 The Lawrence Journal-World. All rights reserved. This material may not be published, broadcast, rewritten or redistributed. We strive to uphold our values for every story published.