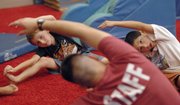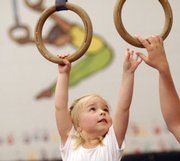 On the street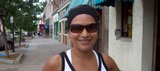 Yeah, I will. I like the gymnastics and swimming competitions.
Gymnastics instructor Kayla Turner holds her right arm out and swivels it at the elbow. The movement makes a cracking sound, like a pencil snapping in two.
Turner has glided over balance beams, executed back handsprings and flipped over the vault as a gymnast for more than 10 years. She competed for five years, but had to stop because the sport has made its mark on her body: a dislodged disc in her back and cysts in her ankle and elbow cartilage. Now her joints grind and creak like malfunctioning machinery.
Injuries shot Turner's chances of reaching one of the defining goals of every gymnast, to make it to the Olympic Games, the latest of which begin today in Beijing. But the injuries didn't destroy Turner's chances of training a future Olympian.
"This is the Olympic Games I was training for, and it kills me that I couldn't do it," Turner says. "But I train every one of my girls as if they're going to go to the Olympics. I discipline them really hard because they need it. It takes a lot of discipline and hard work if they're going to make it."
Big dreams
Gymnastics operates on a leveling system: 1 through 10, with 10 being the best. Turner's been teaching at the East Lawrence Parks and Recreation Center, 1245 E. 15th St., for two years. She trains gymnasts at levels 2, 3 and 4.
Jessica Hearst, 11, has been doing handstands, back handsprings, splits and cartwheels through Turner's classes for two years. She has Olympic dreams.
"I'd like to try to go to the Olympics," Jessica says. "I like how lots of people have a chance to show how good they are and to have other people see that and go, 'Wow, I want to be like them.' "
Jessica has been training for two years. This week, she's looking forward to flipping on the TV to watch her favorite athlete, Shawn Johnson, compete in the Olympics.
"She's just really unique when she does her flips and stuff," she said.
Nine-year-old Jaden Battelle is no different. Jaden likes to watch Johnson perform on TV, and she dreams of being in the Olympics someday, too.
"I like to do the vault, so I would like to do that when I get older," she says.
Jaden, a level 3, and Jessica go to gymnastics class every Tuesday and Thursday evening, but they both practice at home, too. They haven't had the opportunity to compete, though, because the Parks and Recreation doesn't have a competitive team.
The Lawrence Gymnastics Academy, 4930 Legends Drive, does have a competitive team, levels 3 through 10. David Sakumura is the owner and a competitive team coach.
"We have a lot of girls here, especially young ones, who see the Olympics and would like to aspire to be on the Olympic team," Sakumura says. "It's a dream for many of them."
Tough odds
Sakumura opened the Gymnastics Academy in 1994, but not with the purpose of training Olympians.
"There are several gyms in the country that have that as a stated goal," Sakumura says. "But if you're going to take that path, you've got to start at a really young age."
Sakumura only trains gymnasts to level 10, one level below elite - the level of Olympic gymnasts. The elite level is difficult to achieve and requires daily training.
Aiming to become elite someday, 13-year-old Rosie Schaumburg, who works out at the Gymnastics Academy, trains for four hours a day, six days a week. She's a level 9 and has been in gymnastics for more than seven years.
"I know it's a really big commitment," Rosie says. "It would take a lot of work, but I think it's something I want to do. I take it very seriously. : I admire the determination and discipline they put into the sport."
And it takes heaps of both. Turner has had girls whimper, whine and cry, scared of making leaps. She's watched girls panic and let go of the bar. But she's also seen girls go from skittish and scared to comfortable and confident.
It's hard work, but it's hard work some girls are willing and eager to do. Jessica, Jaden and Rosie often beg for longer practices or spend the bulk of their week practicing on their own or looking forward to gymnastics sessions. And the students aren't the only ones who love being there.
"This is the best job in the world," Turner says. "If I could do this for the rest of my life, I would."
She's got the scars to prove it.
Copyright 2018 The Lawrence Journal-World. All rights reserved. This material may not be published, broadcast, rewritten or redistributed. We strive to uphold our values for every story published.