Photo Gallery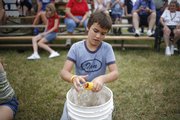 Vinland Fair
Working on a farm wasn't an easy job decades ago, back when there weren't chain saws - and certainly no radios and air conditioners in tractors.
Families got a taste of just how hard farm work was Thursday during an Old-Time Farm Skills Contest at the 101st Vinland Fair.
Children and adults burned their hands racing to shell corn, sweated it out on a two-person saw and pounded at numerous nails, "just to bring back the old days," said Larry Craig, 73, of Vinland.
"All of these things used to be the life of the farmer," he said. "It's hard work, but we don't do it that way anymore."
Craig watched the event from the seat of a tractor used to hold down two-by-fours for the sawing competition.
"It brings back memories," he said. "That's all we knew then."
Vinland Fair is a unique, small and relaxed three-day event that has stayed true to its roots. It's like a reunion for many of the hamlet's former and present residents, and family members. For someone seeking a traditional fair, it's likely a surprise attraction.
"Not too much of it's changed," said Sharon Boyd, a former Vinland resident who now lives in Arkansas. "There's not too many fancy things."
She enjoys its simplicity and all the children's activities.
Although the farm skills competition was more about fun than competition, Ian Beach, 9, of Baldwin City, won a few dollars. The sawing portion was the hardest, he said.
"It hurts your arms," he said.
Could he imagine spending a full day cutting wood with the saw?
"It would be hard," he said.
The fair continues through Saturday. Other features include food; live music; exhibits of home economics, farm products and produce; a lawn and garden tractor-driving competition; and children's activities. Hot-air balloons will fly, if the weather is favorable, at dawn and in the early evening today and at dawn Saturday.
Copyright 2018 The Lawrence Journal-World. All rights reserved. This material may not be published, broadcast, rewritten or redistributed. We strive to uphold our values for every story published.