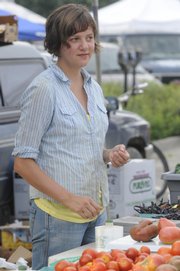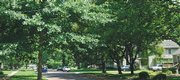 Welcome to our ongoing project, LJWorld.com/Green. Here you can find tips on how to make your life environmentally friendly and read stories about what others in the community are doing to live a more green lifestyle. Eat local, conserve resources, be green.
Last September, Kansas University senior Jennifer Kongs took a class project to the extreme when she decided to test the 100-mile diet.
For one month, Kongs restricted her diet to food that was grown or raised within a 100-mile radius of Lawrence. For her efforts, the Topeka senior was introduced to some lesser-known vegetables. She also tracked down an older gentleman in North Lawrence who sold popcorn out of his garage - and she earned an A-plus in her class, the Geography of American Foodways.
"I wanted to prove that I could do it," Kongs said.
Honey, cream biscuits and Central SoyFoods tofu became staples.
Her flour came from a farmer in Edgerton. Milk and butter from Iwig Family Dairy in Tecumseh. And the bulk of her cheese from the factory in Alma. She made an all-local, oatmeal stout barbecue sauce and learned how to cook with kohlrabi and eggplant.
In the summers, Kongs works at Hoyland Farm, a vegetable farm just outside Lawrence. So much of the produce she consumed was what she took home from work in the evening.
What wasn't on the menu was fruit. A late frost the spring before destroyed much of the crop, so at a time when she should have been indulging in baskets full of apples, there were none.
"I was able to recognize that the different weather events that happen here, really do affect what we eat and what we do," Kongs said.
As a full-time student working two jobs, it was trying to find the time to cook or plan ahead. But, when she did cook, Kongs said her roommates would often benefit.
"I had dinners once a week for all my roommates. It was always really fun. They couldn't believe what I made out of the stuff," Kongs said.
While she resumed eating non-local foods, Kongs still sticks to eating the fruits and vegetables that are in season and available at the farm or Lawrence Farmers' Market.
"Instead of dictating to the world what I am going to be eating, I let the environment tell me what I am eating," Kongs said.
Copyright 2018 The Lawrence Journal-World. All rights reserved. This material may not be published, broadcast, rewritten or redistributed. We strive to uphold our values for every story published.