Clown school in Sedan provides an education in laughter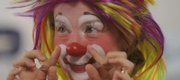 -->
-->
Six weeks after her husband died of lung cancer, retired school nurse Pat McClenahan wasn't sure how she would make it through life without him.
She was looking to find some way to bring laughter and bright colors back to her life.
"My motto for this year, to keep up my spirits, has been 'Life is not about waiting for the storm to pass, but dancing in the rain,'" said McClenahan, of Uniontown. "So I've decided to come to Clown School."
She was among about 20 students, ages 11 to 89, who participated recently in the second annual Emmett Kelly Sr. Memorial Clown School of Performing Arts in Sedan. The small southeast Kansas town is the birthplace of International Clown Hall of Famer Emmett Kelly Sr. and home of the Emmett Kelly Museum.
The school offers classes in a variety of clowning arts, including juggling, makeup and skit production. Instructors are professional working clowns and included Jim Howle, a former Ringling Brothers clown and a member of the International Clown Hall of Fame. Clown school students also had the opportunity to participate in the 2008 Largest Clown Gathering Parade - an attempt to set a Guinness World Record.
"We came close - we had 49," museum board member Ed Henderson said, laughing. "Something like 850 is the record. But we're trying."
Despite a lower-than-hoped-for enrollment, student clowns and instructors wore big smiles on their faces and big shoes on their feet.
In Room 2 at the Sedan High School, instructor Bruce "Boo Boo" Long, Bartlesville, Okla., offers tips on entertaining at birthday parties.
He's wearing a costume of red, yellow and blue with white-face makeup and a red nose. Before inflating a balloon, he stretches it taut. He releases one end, and it snaps back at his hand. "Aaah-haha! That hurt," exclaims Boo Boo.
His infectious laugh resembles both a panicked scream and a shrill giggle. He shows class members how to block a door with clown shoes so that when you open the door toward you, it looks as if it whacks your head. "Aaah-haha!"
"There's no such thing as a natural clown," Long admits. "You have to work at it."
The culmination of clown school is a Saturday parade. It's hard to tell instructors from students. Everyone is wearing costumes and makeup. A calliope wagon starts up its music and leads the clowns into downtown Sedan. Jon Pult, New Orleans, plays a ukulele for the crowd and approaches horses in the parade asking, "Why the long face?"
Instructor Howle - in character as "Hobo Jim" - carries a small rug and broom. When he spots trash, he throws his rug down and sweeps the litter underneath. Then he picks up his rug and walks away.
Since graduating from clown school, Susan Gregg and Denise VH Simmons, both of Arkansas City, have experienced the joy of providing laughter to others as well as delighting in their own clown characters. As part of an International Clown Week event on Saturday, Gregg, as "Birdie the Clown" will join the Wichita Ringleaders Clown Club and perform at a Wichita senior center.
Simmons, 82, a Kansas University alum, wore her makeup and costume to the Presbyterian Manor in Arkansas City to visit her mother. She ended up sitting with several other older residents.
"How thrilled they were to have that smiling, happy clown come in," Simmons said.
Copyright 2018 The Lawrence Journal-World. All rights reserved. This material may not be published, broadcast, rewritten or redistributed. We strive to uphold our values for every story published.