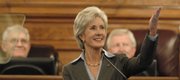 Kathleen Sebelius is the nominee for Secretary of Health and Human Services in Obama's Cabinet. She has served as Kansas' governor since 2002 and before that was insurance commissioner and a state representative.
Topeka — Going door to door for votes, Kelly Kultala frequently replayed a cell phone message from Gov. Kathleen Sebelius urging her to run against fellow Democratic Sen. Mark Gilstrap.
More than just leaving a message, Sebelius took the rare step of working for Gilstrap's defeat. Kultala unseated the three-term senator with 61 percent of the vote in Tuesday's election, making Gilstrap the only incumbent legislator to lose a primary race this year. Both are from Kansas City.
She faces Republican Steve Fitzgerald, of Leavenworth, in the Nov. 4 general election for the 5th District, which covers parts of Wyandotte and Leavenworth counties. Gilstrap defeated him in 2004 by 814 votes out of 25,700 cast.
"I'm not angry, but I'm a little upset the governor took the road that she did," Gilstrap said Wednesday. "I think if she hadn't gotten involved, things would have been different on the outcome."
Sebelius and Senate Minority Leader Anthony Hensley, of Topeka, sent a letter July 3 to union, political action committees and lobbyists statewide, endorsing Kultala and asking for a $1,000 contribution for her.
Hensley called Gilstrap a Democrat in name only, saying he opposed the governor on health care, education and the environment and endorsed Republican Phill Kline for attorney general in 2006.
Gilstrap said he voted the wishes of his district where 37 percent of registered voters are Democratic, 33 percent are Republican and 30 percent are independent.
Kultala, a former Unified Government of Wyandotte County and Kansas City, Kan., commissioner, said while she felt she could have defeated Gilstrap on her own, she was glad for the extra support.
"It certainly helped to have the governor and the Senate minority leader helping with their endorsement," she said. "We might have been able to win without her involvement, but I'm certainly grateful that she did, and that did help."
Kultala said she hadn't planned to run for Senate but Hensley convinced her and Sebelius left that message on her cell phone.
"I listened to that message over and over to remind me why I was running as I was out walking with the heat index at 100," she said.
Copyright 2018 The Associated Press. All rights reserved. This material may not be published, broadcast, rewritten or redistributed. We strive to uphold our values for every story published.