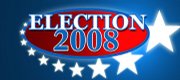 In-depth coverage of the candidates and the issues, all leading up to the Aug. 5 primary and the Nov. 4 general election.
Topeka — Conservatives hoping to make inroads in the Republican primary toward reclaiming control of the State Board of Education were leading in half the contested races Tuesday night.
Conservative Kathy Martin, of Clay Center, the only incumbent seeking re-election, had 52 percent of the vote in the 6th District against moderate Bill Pannbacker, with 98 percent of precincts reporting.
The conservative Kansas Republican Assembly endorsed Martin and candidates in the other four districts where the incumbents didn't seek re-election.
With all percents reporting in the 2nd District, Mary Ralstin, of Shawnee, had 54 percent over conservative Brandon Kenig, of Shawnee.
In the 4th District with 85 percent reporting, conservative Bob Meissner, of Topeka, had 76 percent against Alan Detrich, of Lawrence.
In the 10th District, with 82 percent reporting, David Dennis, of Wichita, had 54 percent over conservative Marty Marshall, of Wichita, who wasn't campaigning.
In the 8th District, conservative Dennis Hedke, of Wichita, had no primary opposition. Like the other GOP finishers, he faces a Democrat in November.
Democrats and moderate Republicans worried that if conservatives take control of the 10-member board next year, how evolution is taught once again could become an issue.
Going into the election, moderates and Democrats held a 6-4 margin. Two conservatives are among the five members not on the ballot this year. Board members serve four-year terms, staggered so seats in even-numbered districts are on the ballot this year.
In past years, conservatives pushed through science testing standards skeptical of evolution and supported by intelligent design advocates. They last succeeded in 2005.
Two years later, with the moderate coalition in charge, the current evolution-friendly standards were adopted.
The treatment of evolution has bounced back and forth over the past decade, depending on who was in charge. The science standards are used in drafting statewide tests to see how well students know the subject.
Conservatives have said they have no plans to seek immediate changes in the science standards if elected - and they didn't raise the issue in their campaigns.
But state law requires the board to review the standards by 2014.
Moderates say even if conservatives aren't discussing such plans now, evolution likely will come under attack if conservatives control the board when the science standards come up for review.
Copyright 2018 The Associated Press. All rights reserved. This material may not be published, broadcast, rewritten or redistributed. We strive to uphold our values for every story published.