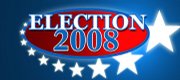 In-depth coverage of the candidates and the issues, all leading up to the Aug. 5 primary and the Nov. 4 general election.
Topeka — Control of the State Board of Education and the fate of evolution in the classroom could be in the hands of Lawrence voters in November.
Robert Meissner of Topeka, a conservative Republican, was leading Tuesday's primary over another conservative Republican, Alan Detrich, a fossil hunter and artist from Lawrence. Meissner, a dentist, had 76 percent of the vote with 89 percent of precincts reporting.
Meissner's victory sets up a general election contest against Democratic moderate Carolyn Campbell, of Topeka, for the District 4 seat. The district includes most of Lawrence.
The 10-member board of education has fought over science standards for nearly 10 years. When conservatives gain a majority, they have adopted science standards critical of evolution, and when moderates take control of the board, as they did in 2006, the standards support evolution.
Moderates currently hold a 6-4 margin on the board, but three seats up for election in November are held by moderates who are not seeking re-election, including District 4.
In 2004, Meissner almost won the same board seat while campaigning that he was willing to add intelligent design to science standards.
In response to a recent questionnaire from the Journal-World, Meissner wrote that he supported the teaching of evolution, but added, "As stated in the past, if the science community can come to a consensus as to the scientific credibility of alternative theories as to origin, then I would be open to, at least, discussing the possible inclusion of those scientifically credible theories."
Primary results
Race results, including precinct-by-precinct breakdowns:
Johnson County Attorney: Steve Howe, 33,260 votes; Phill Kline, 22,188 votes
Copyright 2018 The Lawrence Journal-World. All rights reserved. This material may not be published, broadcast, rewritten or redistributed. We strive to uphold our values for every story published.