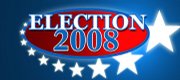 In-depth coverage of the candidates and the issues, all leading up to the Aug. 5 primary and the Nov. 4 general election.
It could be billed as a race to become the political power couple of a southeast Lawrence precinct.
The young upstarts, James and Andrea Meier, moved into the Pine Tree Townhouses about a year ago so he could attend Kansas University's pharmacy school. They're trying to make their way onto Douglas County's Republican Committee in Tuesday's primary election.
They will be trying to unseat Delbert and Mary Baxter, who have served on the committee for about 15 years.
Neither couple have actively campaigned, and both say if the other wins, that would be fine.
"It's very odd to have a competitive race really anywhere because, unfortunately, not a lot of people are getting involved," James Meier said.
Neglected races
One political scientist says these are important grass-roots political races that too often are overlooked, mostly out of voter ignorance and decreasing civic engagement.
"They get down the ballot, and they don't know what the heck this is," said Loran Smith, who teaches about local and state government as a Washburn University political science professor.
In each party in Douglas County, no one even filed to run for about half of the precinct committee seats that will be decided Tuesday. For Democrats, there are only five contested races out of 134. On the Republican side, it's four.
During primary elections every two years, voters in each party select one man and one woman to serve on the party's committee in the county. Their main task is to select new county officials or state legislators if an office becomes vacant.
Little interest
Smith said many people figured out the importance of the county committees when Johnson County Republicans resurrected Phill Kline's political career in 2006. They selected him to the district attorney vacancy, just weeks after he lost the Kansas Attorney General race.
But it's still common in counties across the state to have little interest in serving on the committees, he said. For one, younger people are drawn more toward electronic means of communication, such as Facebook on the Internet, instead of going door-to-door in neighborhoods.
Usually the vacancies in the precinct races will go to write-in candidates or county party chairmen will make appointments later, said Christian Morgan, executive director of the Kansas Republican Party.
Morgan, a Lawrence resident, is running unopposed to captain his precinct in central Lawrence. He said statewide, the party relies on their precinct leaders, especially to help campaign.
"The best way to reach voters is by knocking on their door and talking to them. That's not a partisan thing. I guarantee you," he said.
Mike Gaughan, the Kansas Democratic Party's executive director, said precinct committees give voters a firsthand look at party politics. The state party also aims to have a strong local presence.
"We want to make sure that people can get involved whether they want to run or not," said Gaughan, also a Lawrence resident, who is seeking to represent the party in his west Lawrence precinct with his wife, Julia.
They're both running unopposed. Gaughan said the state party is also working on a concept called "virtual precincts," which allows voters to work together with people on the Internet, even though they're not geographic neighbors.
As for those who are running for precinct seats the traditional way, they've noticed a drop off in interest in the last decade.
"There's a lot of apathy out there. It's really hard to fight it," Mary Baxter said.
The Baxters, who are both retired, have worked at their polling place during elections for several years, and they've each represented the precinct in the county for more than 15 years. Most neighbors know them because of they see the couple at the polls, she said.
But oftentimes it's hard to even get younger people out to vote, she said.
Her husband's opponent in Tuesday's election - the newcomer - James Meier, who's in his mid-20s, said younger people should take interest in the precinct leadership concept, even if they disagree with party stances on issues.
"The best way is to become a precinct person, get involved and change what the party stands for," Meier said.
Copyright 2018 The Lawrence Journal-World. All rights reserved. This material may not be published, broadcast, rewritten or redistributed. We strive to uphold our values for every story published.