Past Event
with tons of local bands
When: Sunday, August 3, 2008, noon to 8 p.m.
Where: South Park, 12th and Massachusetts streets, Lawrence
Cost: Free
-->
-->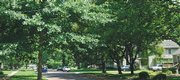 Welcome to our ongoing project, LJWorld.com/Green. Here you can find tips on how to make your life environmentally friendly and read stories about what others in the community are doing to live a more green lifestyle. Eat local, conserve resources, be green.
From homegrown wind power to organic food and emission-cutting fuel supplements, Saturday's Little Green Festival isn't little any more.
The second-year festival, which entertained hundreds at South Park, welcomed 115 vendors, a significant jump from the 25 that participated in last October's inaugural event. Even a few vendors who had not formally signed on to participate came to the park to show Lawrencians different ways to make their lives more green.
On a day when Douglas County's heat index was 108 degrees, bluegrass music filled the air, while vendors such as Eric Deeter did their best to woo green-minded shoppers.
Deeter's company, Livinity, of Shawnee, had a booth advertising organic health and wellness products, as well as a fuel supplement that cuts emissions by 30 percent.
Deeter said he was trying to educate shoppers on different ways to integrate green products into their lives.
"It helps us to connect with people who are looking for an alternative to what's out there commercially," he said.
Organizer Alison Roepe said she was pleased at the rapid growth of the festival. The vast array of vendors included several Kansas University students who gave a presentation on using hay bales to build houses.
"That is the one thing I wanted to happen at this festival," Roepe said.
With that accomplished, she said the most important part of the festival was helping people understand the green trend.
"People are connecting the dots in a new way," she said.
Festivalgoers were impressed at the wide breadth of offerings.
"The diversity is greater than I thought, and I think there are some good ideas," said Ling-Lung Chen, of Lawrence.
Even though it is difficult to integrate many environmentally friendly aspects into daily life, she said, it's important to try. "You do what you can."
Copyright 2018 The Lawrence Journal-World. All rights reserved. This material may not be published, broadcast, rewritten or redistributed. We strive to uphold our values for every story published.