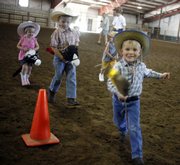 Livestock, a world of entries, a carnival and a demolition derby - see the sights and hear the sounds of the 2008 Douglas County Fair.
It's the grown-up version of bumper cars.
The Demolition Derby crashes onto the scene of the Douglas County Fair tonight, and some local car enthusiasts are getting their vehicles ready.
They have been working almost eight hours a day after work for the past three weeks.
"It's a lot of hard work - tearing the cars apart, building them, getting them ready to go," said Troy Gentry, the owner of 19th Street Auto Recyclers, 2005 E. 19th St., where the derby cars take over the garage after business hours.
This is the fifth year Gentry has entered cars in the derby. This year, he and a group of friends are preparing four cars for the crash course.
It's a lot of work with a lot of rules to follow.
"There's certain things that they'll let you do and they won't let you do," Gentry said.
For example, cars can't have any extra metal or any other material that makes them stronger. All the derby cars should enter the area just as they came off the factory line.
But some finagling is required.
"Weld doors shut, (add a) cage, battery box, have to move the fuel tank, all-tread the hood, take out the windows," said Trent Stanley, who used to work for Gentry and now comes to help with the derby cars for fun. "Normal stuff," he added with a laugh.
Drivers even get into the act, working on their vehicles in advance of the derby, which begins at 7:30 p.m. today at the Douglas County Fairgrounds. The driver of the last car running will take home the top prize of $1,200.
David L'Ecuyer drove in the derby for the first time last year, and he's looking to get a trophy the second time around. This year he's getting behind the wheel of a Volvo. But, he says, there's no way to plan for the arena.
"You can't go out with a strategy," he said. "There's too many cars out there, and everything happens so fast."
Gentry has yet to build a winning car. But he says it doesn't really matter.
"We just do it more for fun than anything," he said.
Copyright 2018 The Lawrence Journal-World. All rights reserved. This material may not be published, broadcast, rewritten or redistributed. We strive to uphold our values for every story published.